There are lots of things to consider when choosing which rug is best for your home including material, colour and size. In this guide, we look at the different rug options available and where they each fit best into your home.
Buying a rug is a tricky business: the right one can pull a room together, while the wrong one can make a room feel disjointed and unfinished.
There are lots of things to consider when choosing which rug is best for your home including material, colour and size. In this guide, we look at the different rug options available and where they each fit best into your home.
RUG MATERIALS: GETTING THE RIGHT MATERIAL
You've made the decision to buy a rug made from a natural and sustainable material, but which is best for your home? Sisal, jute, coir or seagrass? Each of these materials have their own features and uses in the home. Here's an overview:
Natural rugs
Jute rugs
The warm, natural tones and soft texture of jute gives it give it a luxurious and comforting feel that is ideal for living rooms, children's playrooms and bedrooms. See Jute swatches here.
Sisal rugs
Sisal weave is the most durable natural flooring making it ideal for areas of with high footfall such as stairs and hallways. It's also ideal for creating heavy-duty warmth in family living areas. See Sisal swatches here.
Coir rugs
Coir rugs exude warmth thanks to their comforting golden hues. They're hardwearing making them ideal for hallways. See Coir swatches here.
Seagrass rugs
Seagrass tends to be the roughest material within the natural flooring range making it perfect for busy areas of the home such as hallways but less ideal for living rooms and bedrooms. See Seagrass swatches here.
Wool rugs
A diverse material that is renowned for its longevity, wool can be made in a range of colours and textures. This, along being naturally resistant to wear, makes it an ideal floor covering throughout the whole home. See Wool swatches here.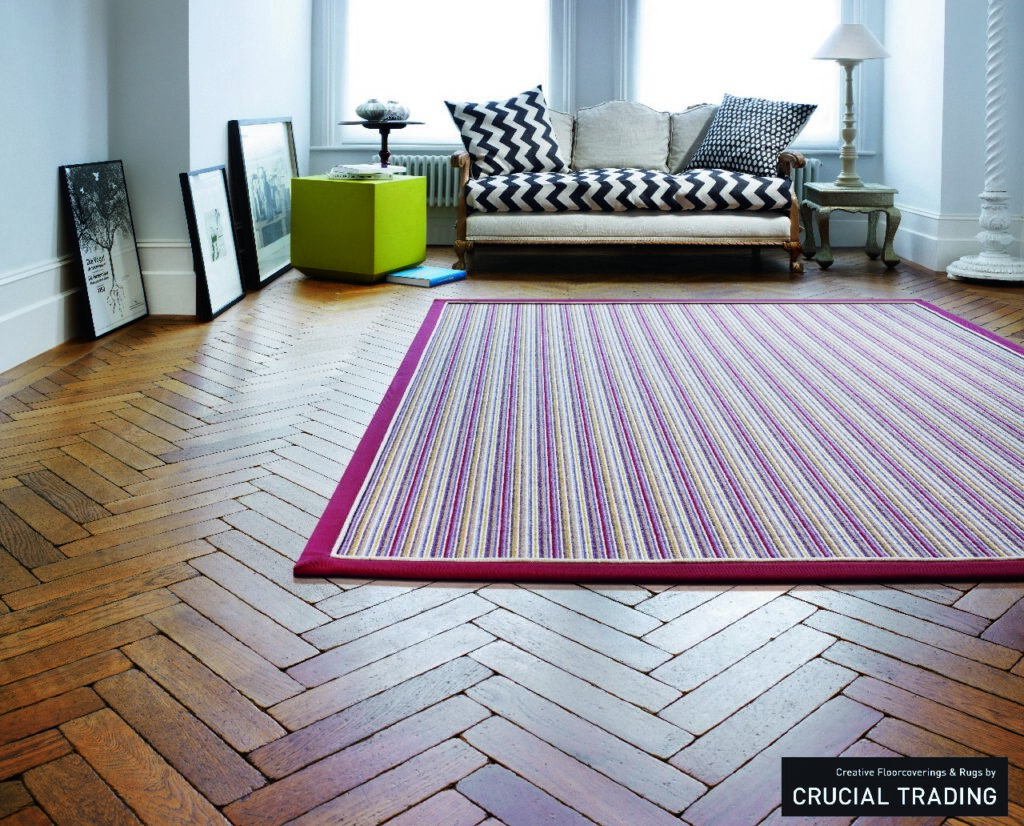 RUG SIZES: CHOOSING THE RIGHT SIZED-RUG
Rugs come in a wide variety of sizes and made-to-order rugs, like those designed in our Rug Creator, can be constructed to any size.
The first thing to decide on is do you want to fill the room or define different areas within it? If you choose to define different zones in your rooms by using multiple smaller rugs, ensure these complement one another so they don't battle for attention.
If you're looking for one large statement rug, there are some basic floorplan rules you should follow.
Area rug floorplans
The key to adding style to your interior through the use of a rug is by choosing the right size. A rug that is too small can have the opposite effect and make the room feel disjointed.
It's very common to choose a rug that is too small for the space. However, the floorplans below should give you the guidance you need when measuring up.
Living room
A rug should fit the size of your seating area and be as large as possible within it. Ideally, all the furniture will sit on the rug, but front-legs-only is a good and common compromise. This option is perfect for uniting a room.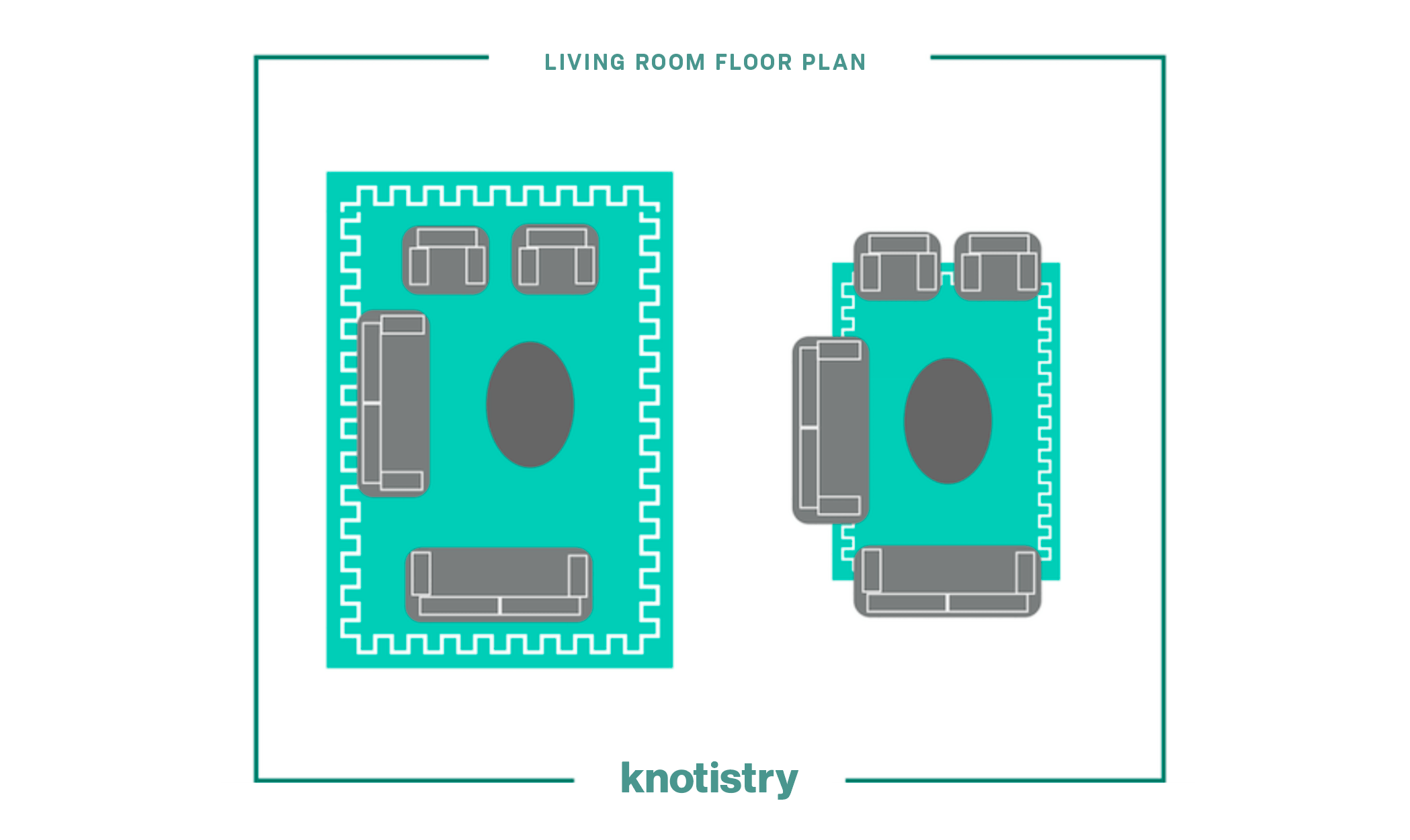 Dining room
As with the living room, you want to ensure that all your dining furniture sits on the rug. With enough space to be able to pull the chairs back and still have them sitting on the rug. The shape of rug you pick will be determined by whether you have a rectangular or circular dining table.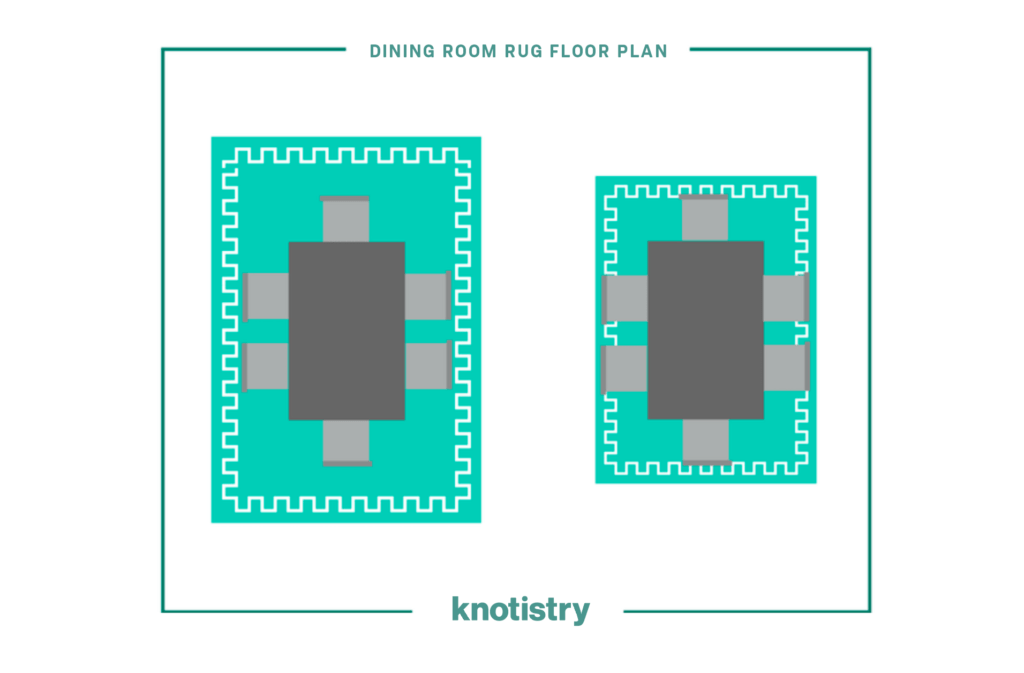 Bedroom
When it comes to bedroom rugs, there are three classic floorplan options.
The first, is to choose a rug large enough to accommodate all your bedroom furniture, therefore leaving only a border of bare floor showing around the edges of the room.
The second is to select a smaller rug that will peek out from the foot of the bed. The rug won't extend all the way to the head of the bed and the bedside tables will not sit on the rug at all.
The third option will keep your rug budget to a minimum whilst not compromising on style. Instead of using one large rug, use two runners to lie beside the bed.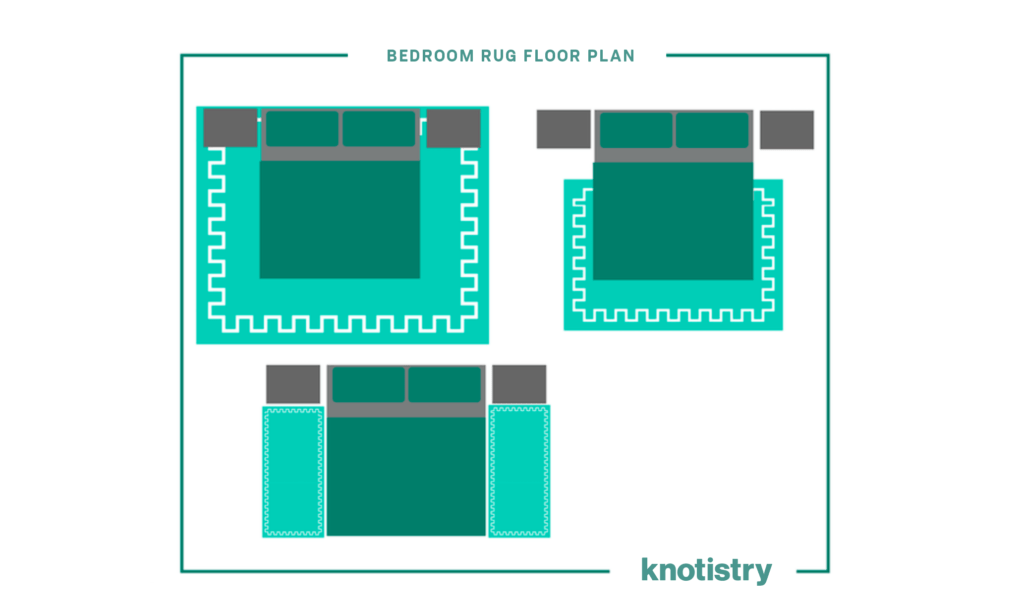 As a general rule, if in doubt always choose the larger option. It's more stylish to have a large rug than one that is too small for the room.
RUG DESIGNS: PICKING THE RIGHT DESIGN
Whether you're designing a room around your chosen rug, or adding the rug to an existing scheme, remember that a bold pattern or print will become a focal point, whereas a more neutral rug will blend in with your existing decor.
Texture is probably the most overlooked aspect when choosing a rug, but it shouldn't be, especially when choosing a natural material. A room with a complimentary mix of different textures feels rich and layered; an easy way of achieving this Is through using the largest piece of furniture in the room, the rug.
If your walls or textiles are busy, a neutral or single-colour rug with a simple border will sit better among them. Hand-knotted and flat-woven styles are both ideal for this.
For rooms that are more minimalist or neutrally designed, textured and patterned rugs can add interest. Think hand-tufted or patterned rugs in these cases.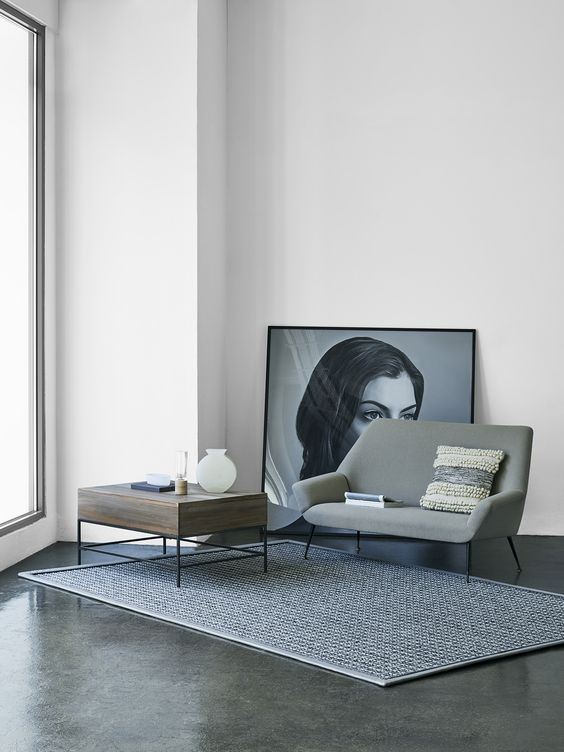 RUG COLOURS: CHOOSING THE RIGHT COLOUR & PATTERN
When it comes to choosing the colour of your rug you should be guided by four things.
The colour of your carpet or wood flooring
If you're looking to make a statement in your room, you want to create contrast between your rug and current flooring. A black or dark grey rug will not look as good as it would against a lighter carpet. Just as a cream or neutral coloured rug will not stand out on a light wood or pale carpet.
Your existing furniture
Make sure you choose a rug that's colour scheme complements your existing room's décor, not conflicts with it. A stylish choice is to subtly pick out the key colours of your room within the rug. For example, if you have ochre furniture and grey walls, choose a rug that combines these colours.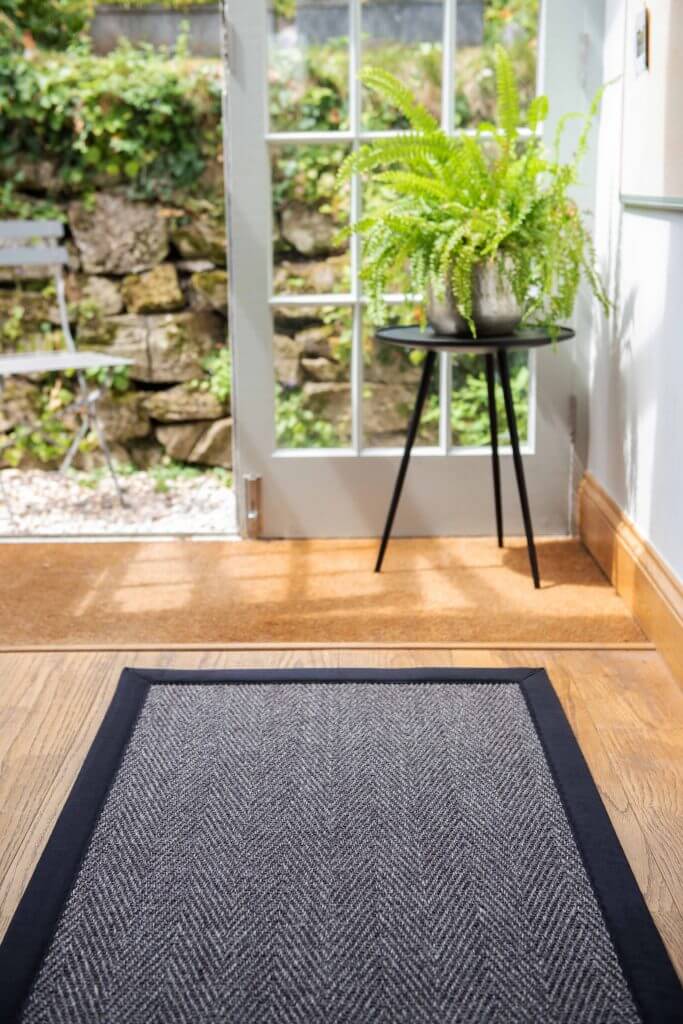 Alternatively create complimentary contrast by combining colourful rug borders with key pieces.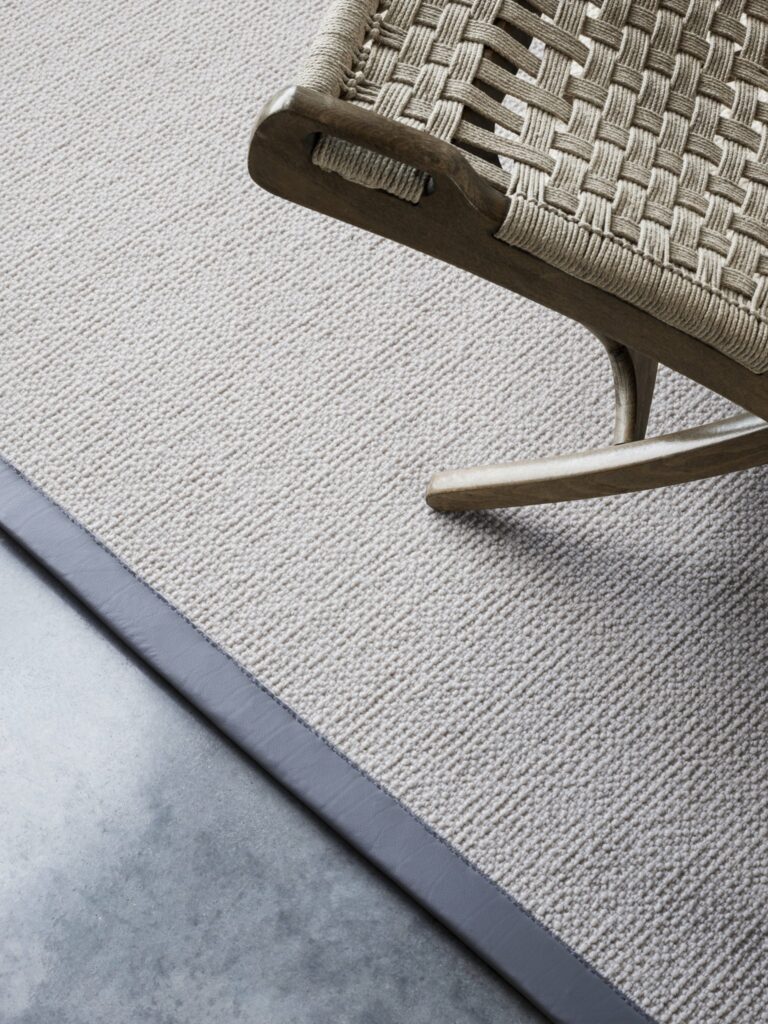 The space
Dark coloured rugs make a room feel more intimate, whereas a lighter rug makes smaller spaces appear larger.
The room
If you're looking for a new hallway rug and have young children or pets, a white woollen rug would not be ideal. However a hard-wearing material such as Sisal in a darker colour would be more suitable whilst still being stylish.
Choosing the right rug borders & runners
Remember that colourful borders can create just as much impact as a colourful rug itself. Colourful rug borders are a great way to introduce bold colours to natural rugs. The same style rules apply here; either choose a border that matches your furniture or pick a bold colour that compliments your key pieces.
Rugs with matching runners
If you're looking for a new hallway rug you may also consider matching runners for your landing and a stair runner. Remember that rugs and runners don't have to match exactly but again you want to choose complimentary colours and patterns to create unity.
Rug Shapes
Retangular rugs
A rectangular rug is perfect for larger rooms and often comes in a wide variety of sizes, from runners to large area rugs, as standard making it the most traditional choice.
Square rugs
Square rugs are more commonly used in square rooms or when defining different zones within a room.
Circular rugs
Round rugs are ideal in smaller rooms or rooms with key pieces of similar shape. For example, if you have a round dining table, a circular rug is a perfect addition.
Looking for a more unusual shaped rug? Give our team a call on 0117 370 2762 to discuss the different custom-made options available at Knotistry.
RUGS BY ROOM
Living room rugs
As one of the busiest areas in the home, living rooms rugs need to be comforting but also hard-wearing, especially if you have young children or pets. Sisal makes an ideal choice due to heavy-duty warmth and variety of colours and patterns.
Bedroom rugs
Being the first thing your feet touch in the morning, bedroom rugs should be cosy and warm. Consider a 100% wool rug to bring sophistication and comfort to your bedroom. From block-colour rugs to patterned and textured styles, there are options available to compliment all decors.
Dining room rugs
The warm-tweedy look of jute makes it the perfect material for a dining room rug. Just remember to blot any spills immediately to reduce the chance of marking.
Rugs for kitchens
When it comes to rugs for kitchens, seagrass is by far the most suitable of the natural flooring range as it is less prone to water-marking. Be wary that all rugs are a trip hazard and can be especially dangerous in the kitchen. Ensure your kitchen rugs are stuck down securely using high-quality rug tape.
Hallway rugs
Coir hallways rugs are an ideal choice. They are incredibly durable meaning that they can be used in high traffic areas where other natural carpets might not be tough enough to withstand the footfall.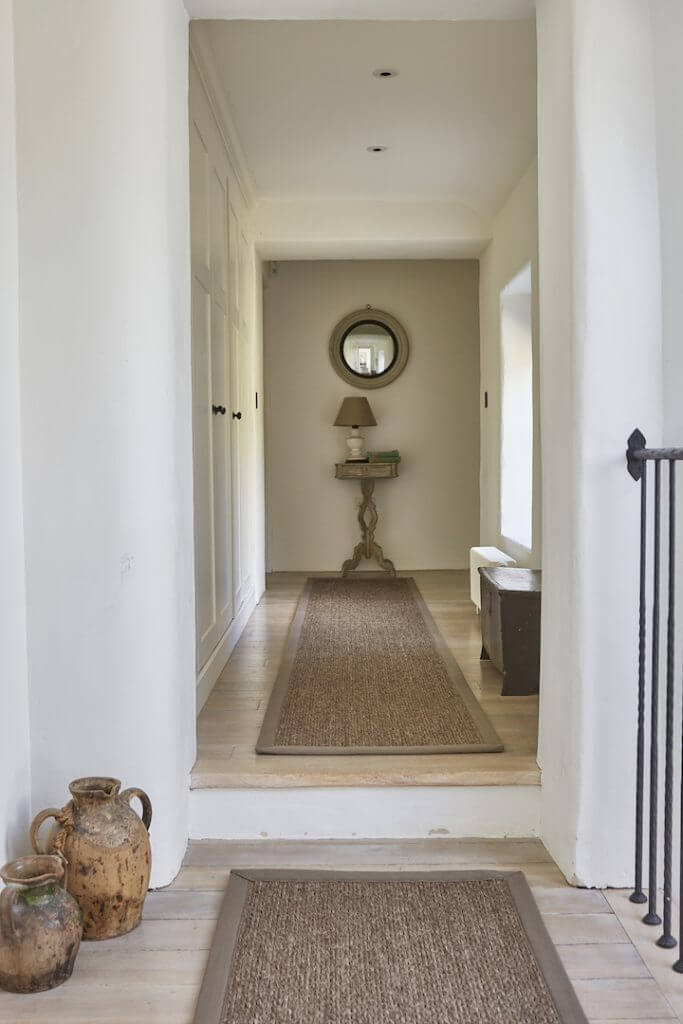 WHERE TO BUY RUGS?
With more and more people taking an interest in interior design and home furnishings, there is more choice than when it comes to buying flooring. If you prefer to shop for rugs in person, there are numerous chain and independent stores available up and down the country. However, shopping online gives you more choice and more flexibility.
At Knotistry we understand the importance of choosing the right natural carpets and rugs for your home. That's why we offer a wide selection of affordable, pure wool rugs and natural floor runners, as well as a custom-made rug design service.
By selling online we can offer the highest quality flooring for your home at excellent prices.
DESIGNING YOUR OWN RUG
If you have the ideal rug in mind but haven't been able to find it, designing your own rug is ideal. Our online rug creator allows you to design bespoke custom-made rugs in a variety of materials, styles and sizes.
We offer free samples to ensure that your chosen material fits your décor, before you place your order.
PRACTICAL CONSIDERATIONS WHEN BUYING A RUG
Rugs for hardwood floors
Hardwood floors paired with complimentary rugs exudes style. Ensure that your new rug is secure by using a non-stick rug pad or rug tape.
We have a wonderful selection of natural rugs to choose from as well as a custom-design service. Can't decide between different materials, shades of textures? Order 2 free samples and get them delivered to your door with same day dispatch. Our friendly and expert team are on hand for advice. Simply call us on on 0117 370 2762 or email [email protected]
100% Un-dyed Wool, Cotton Backed, Hand-Woven Luxury
We can supply Alternative Flooring's Barefoot and Crafty collections. These carpets are truly something special. They're made of un-dyed wool which is hand-woven on traditional looms. The wool is woven into a base of cotton and secured with natural latex, meaning that there are no adhesives or plastics used whatsoever. These natural carpets are as environmentally friendly as carpets get. For information, prices and availability call us on 0117 370 2762.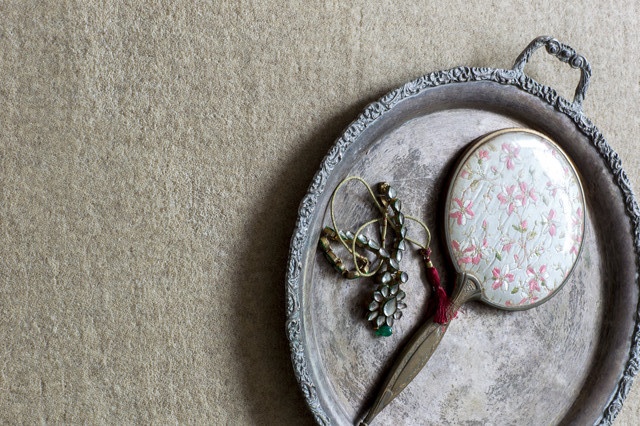 The Barefoot Bikram has an incredibly thick twisted pile of about 18mm. As you walk on it, your toes are enveloped in the warmth and luxurious comfort of un-dyed natural wool carpet.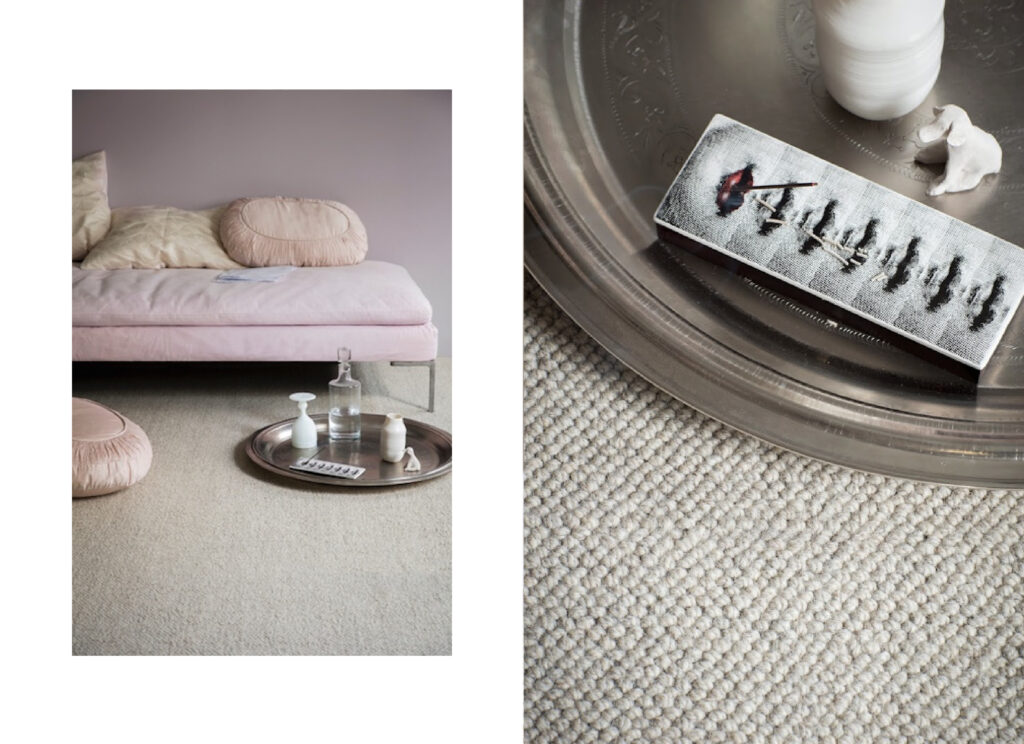 The Hatha is a fantastically thick loop pile – again 100% un-dyed wool perfect for snug areas like living rooms and bedrooms. It would also make an amazing rug – you can find this product using our rug creator.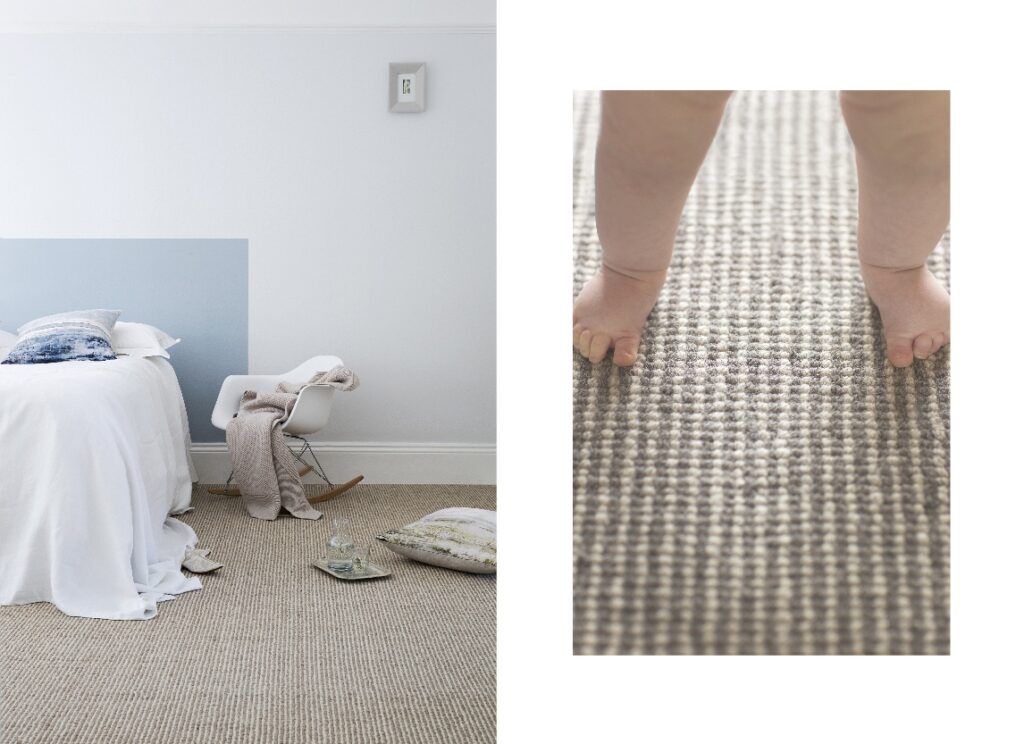 The Ashtanga is another 100% un-dyed natural wool carpet, this time in a subtle, reserved line pattern. We can also supply the Ashtanga Silk range, which incorporates viscose bringing dots of silky shine into the pile.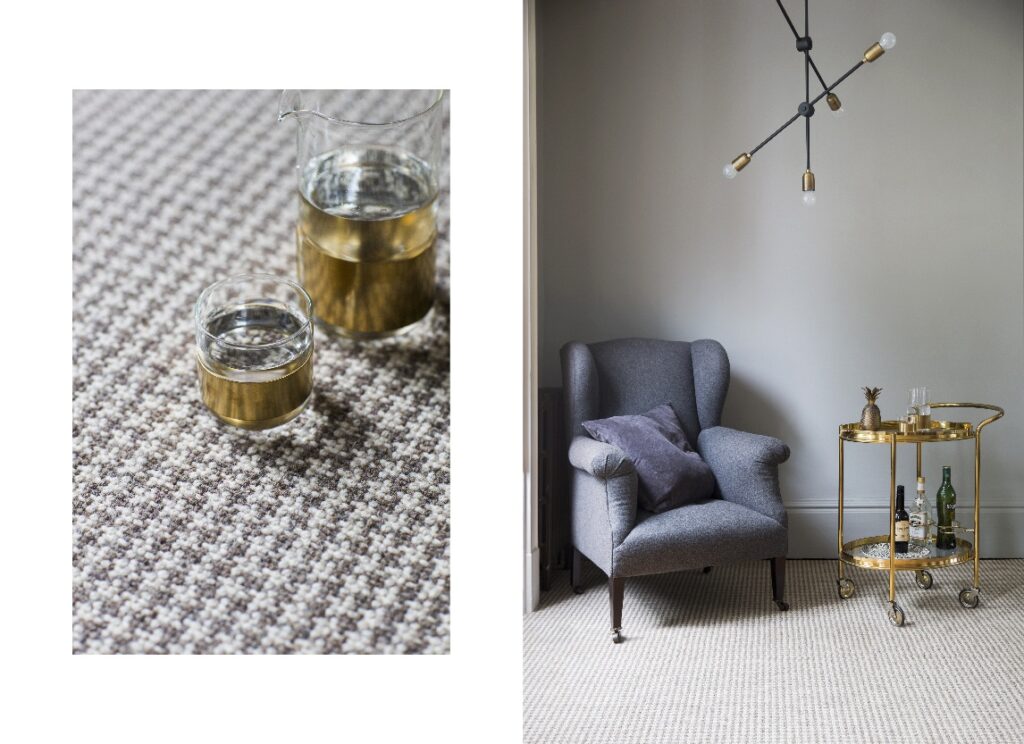 Combining 100% undyed wool with innovative designs, the Crafty range is available in diamond, cross and the 'hound' weave displayed above and below; again this is available on our rug creator.
For information, prices and availability call us on 0117 370 2762
Alternative Flooring's truly original, idiosyncratic designs!
We can now supply Alternative Flooring's Quirky B runners and carpets for spaces in need of something completely different. Give a new life to your interior with mesmerizing geometric patterns in bold, brazen colours. For information, prices and availability call us on 0117 370 2762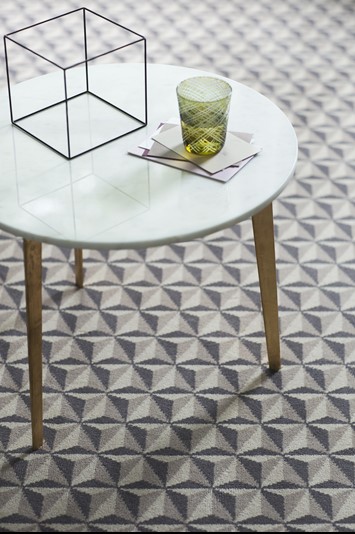 Quirky B Daisy; Gerbera
The Daisy pattern evinces calm and contemplation; little wonder that it was inspired by the murals which grace the walls of ancient Buddhist temples.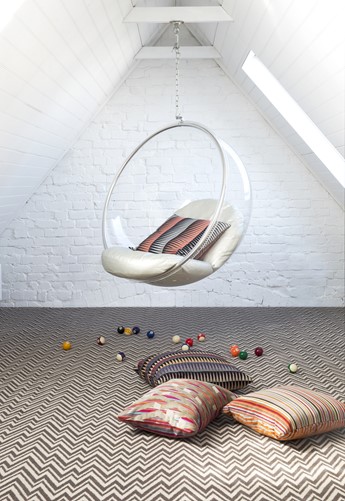 Quirky B Tetra; Gibbs
The Tetra leaps out at you with three-dimensional, Picasso-esque vitality.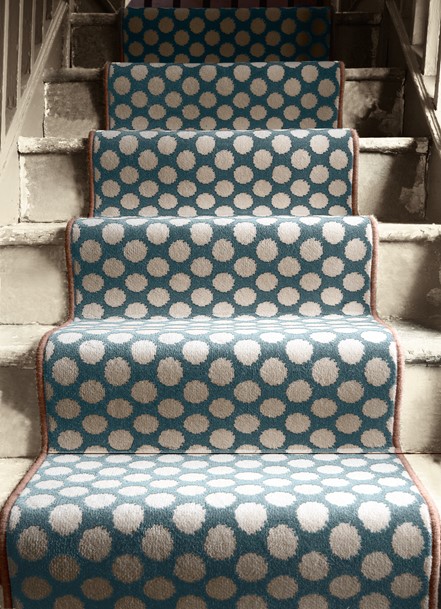 Quirky B Dotty; Duck Egg
Some of the Quirky carpets, like the Dotty and the Fair Isle, are available in set width runners (69cm) which bring exuberance and style to a staircase.
For information, prices and availability call us on 0117 370 2762
What is Coir?
Coir is actually the fibre from the husk of the coconut and it is probably the oldest form of natural plant covering for floors, with its use dating back for centuries. It is incredibly strong and durable and is thus a great alternative to sisal and other softer forms of natural flooring, for areas that receive high wear and tear.
The husk is taken from coconut palms that grow along the inner waterways and lakes of India, in particular Kerala. This is first soaked in fresh water for several months and then beaten to soften the cellulose fibres. Because these fibres are short and hard, they are spun by hand rather than by a machine. This hard 'yarn' is then called "kayar" and it is used to make doormats, ropes, sacks and floor coverings. Coir has a unique texture which produces a warm look that can't be achieved with modern synthetic materials.
Coir as Flooring
Coir makes ideal flooring, especially in areas that receive high traffic as it is very resistant to wear and tear. It is a great alternative to carpet and also to other natural plant coverings that are too fine to withstand heavy wear. Coir can be used as carpets but also as rugs and mats, which are very strong and tightly woven. It is a strong but coarse fibre and probably isn't the best material for areas where comfort under-foot is a consideration.
Coir carpet can be installed throughout the entire house, just like traditional carpet, but it is not advisable to install it in bathrooms and kitchens, as it is vulnerable to excessive moisture. Like all natural flooring, it is best not to attempt DIY but to find a professional floor layer who is experienced in laying this type of flooring. Coir can be installed directly to the floor but an adhesive underlay is highly recommended as it will help the coir carpet last loner; it'll be easier to remove when the time comes to replace it; if it is good quality, it will help to hide any unevenness in your floor and it will also provide both heat and sound insulation, thereby reducing energy bills and noise pollution. Essentially – combines with the use of high quality underlay and with due care, coir wears the same as high quality carpets
Because coir is a "natural" product with an expected rustic look, it is very minimally processed – unlike synthetic floor coverings which often have many chemicals added to create particular colours and effects. Unfortunately, these chemicals also create the perfect conditions for rapid wear whereas coir, in its natural state, retains its inherent strength and durability. Coir is resistant to insects, in particular, carpet moth damage, as the natural oils inherent in the fibres repel insects. Coir is very low maintenance, although regular vacuuming is recommended.
Coir is very similar to timber, so it will expand and contract with higher and lower humidity, respectively. This must be accounted for when laying coir flooring and also in considering the structure and dimensions of a room, as well as its usage. Although coir is generally very durable, if it is continually exposed to strong sunlight, in conditions of heat and low humidity, then its fibres can become brittle and thus weakened. Although it is a good alternative to traditional carpet in many respects, coir may not be comfortable to sit on for long periods.
What is Seagrass?
Seagrass flooring is made by weaving a yarn spun from the dried leaves of the seagrass plant which grows in many shallow coastal waters around the world. It is not a true grass but the leaves are long, flat and blade-like so the name has stuck.
Seagrass occurs naturally nearly all round the world, wherever there are temperate coastal shallows. Up until the early 20th century it was a popular material for insulating houses as the dried blades have air holes embedded within them. This makes them a good barrier against sound and helps to keep heat in. In coastal areas of Europe seagrass was a popular thatching material as well. Most of the seagrass used in carpets in the UK comes from paddy fields in China so it is not redoing the area of the naturally occurring seagrass beds.
Seagrass Carpet
Flooring products made from seagrass are usually backed with latex to keep the whole product natural and so it is suitable for houses where families want to lower the potentially harmful emissions from man-made carpet and other materials.
Just like any other woven product, seagrass flooring is available in a number of different patterns designs and fine or coarse weaves. Seagrass is only available in its natural colour; this can be greenish or golden depending on when it was harvested. It has a waxy, rustic and pleasing look once laid.
When looking at seagrass as a flooring material there are a number of things that need to be taken into consideration. The first is to make sure that it can cope with the use that you will put it to. It is usually rated as suitable for medium domestic use but should not be used in kitchens or bathrooms. Although seagrass can be used on stairs, it does secrete a natural oil which can get a little bit slippery.
Seagrass is a durable product, although certain things such as the castors on office chairs can dig into the carpet and ruin it. We would recommend invest in chair mats which provide a large surface that chairs can roll on to protect the seagrass flooring. Other furniture on castors, such as sofas, should be alright so long as they aren't moved as often, but it might be worthwhile buying some castor cups just to be on the safe side. These will spread the weight of the castor over a wider area and reduce the depth of any sunken areas.
What is Jute?
Jute is the fibrous inner bark from the stalk of a giant tropical herb, named Cochorus, which is a member of the Linden family and is closely related to hemp. Jute is also known as Hessian in Europe.
As it is one of the cheapest natural fibres and lagging only behind cotton in the amount produced, jute is used in a huge variety of things. Its main use is as cloth for wrapping bales of raw cotton and also for making sacks and coarse cloth. These plants are grown in southern India and other hot, damp regions of Asia and after the harvest, the stems are tied into bunches and then soaked in water for two to three weeks to soften them.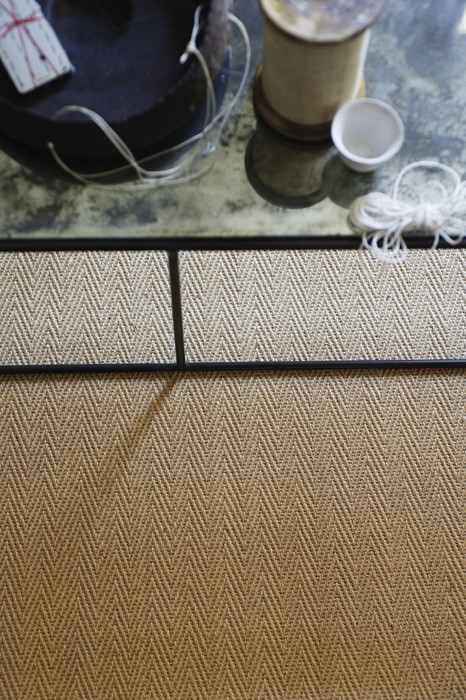 Known as the 'golden fibre' jute is one of the longest and most used natural fibre for various textile applications. The fibres are softened by pounding them with wooden mallets and then dried in the sun. Finally, they are spun into a yarn with a silky luster and a variety of natural shades. This makes jute one of the softest natural fibres although its fine-stranded nature means that it is generally more suitable to delicate fabrics and areas of light traffic.
Jute Carpet
Jute is probably the most environmentally-friendly fibre you can find, from its seed to its expired fibre – even this can be recycled more than once. It is a true sustainable and renewable resource as it is incredibly easy to grow and re-grow, with plants being grown in 4-6 months. This rapid cycle means that it can replenish itself more easily without the need to plant more trees – and it also doesn't need as much space or energy to grow as trees do.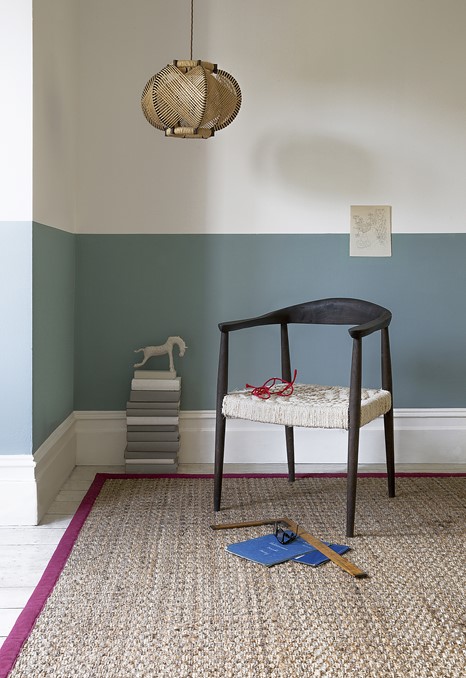 Jute flooring has many advantages. It is completely natural and so less likely to trigger skin irritations. Jute carpet will be incredibly soft under foot, so its great for snug areas like bedrooms or living rooms. Other advantages include its anti-static properties, its low thermal conductivity and acoustic insulation properties. Jute is also fire-resistant due to its inherent structure and its natural oils – it might catch fire but it will not stay lit for long.
Jute does have some disadvantages, namely that its strength rapidly deteriorates in the presence of moisture or certain atmospheric conditions, such as acidic conditions. It is not ideal for humid climates as not only does it lose its strength and durability but will also become more prone to microbial attack. Great care must be taken not to get jute flooring wet as it watermarks easier than other natural carpets and is not recommended for areas such as kitchens or bathrooms, nor for areas which endure high wear and tear like passageways and staircases.