There are lots of things to consider when choosing which rug is best for your home including material, colour and size. In this guide, we look at the different rug options available and where they each fit best into your home.
Buying a rug is a tricky business: the right one can pull a room together, while the wrong one can make a room feel disjointed and unfinished.
There are lots of things to consider when choosing which rug is best for your home including material, colour and size. In this guide, we look at the different rug options available and where they each fit best into your home.
RUG MATERIALS: GETTING THE RIGHT MATERIAL
You've made the decision to buy a rug made from a natural and sustainable material, but which is best for your home? Sisal, jute, coir or seagrass? Each of these materials have their own features and uses in the home. Here's an overview:
Natural rugs
Jute rugs
The warm, natural tones and soft texture of jute gives it give it a luxurious and comforting feel that is ideal for living rooms, children's playrooms and bedrooms. See Jute swatches here.
Sisal rugs
Sisal weave is the most durable natural flooring making it ideal for areas of with high footfall such as stairs and hallways. It's also ideal for creating heavy-duty warmth in family living areas. See Sisal swatches here.
Coir rugs
Coir rugs exude warmth thanks to their comforting golden hues. They're hardwearing making them ideal for hallways. See Coir swatches here.
Seagrass rugs
Seagrass tends to be the roughest material within the natural flooring range making it perfect for busy areas of the home such as hallways but less ideal for living rooms and bedrooms. See Seagrass swatches here.
Wool rugs
A diverse material that is renowned for its longevity, wool can be made in a range of colours and textures. This, along being naturally resistant to wear, makes it an ideal floor covering throughout the whole home. See Wool swatches here.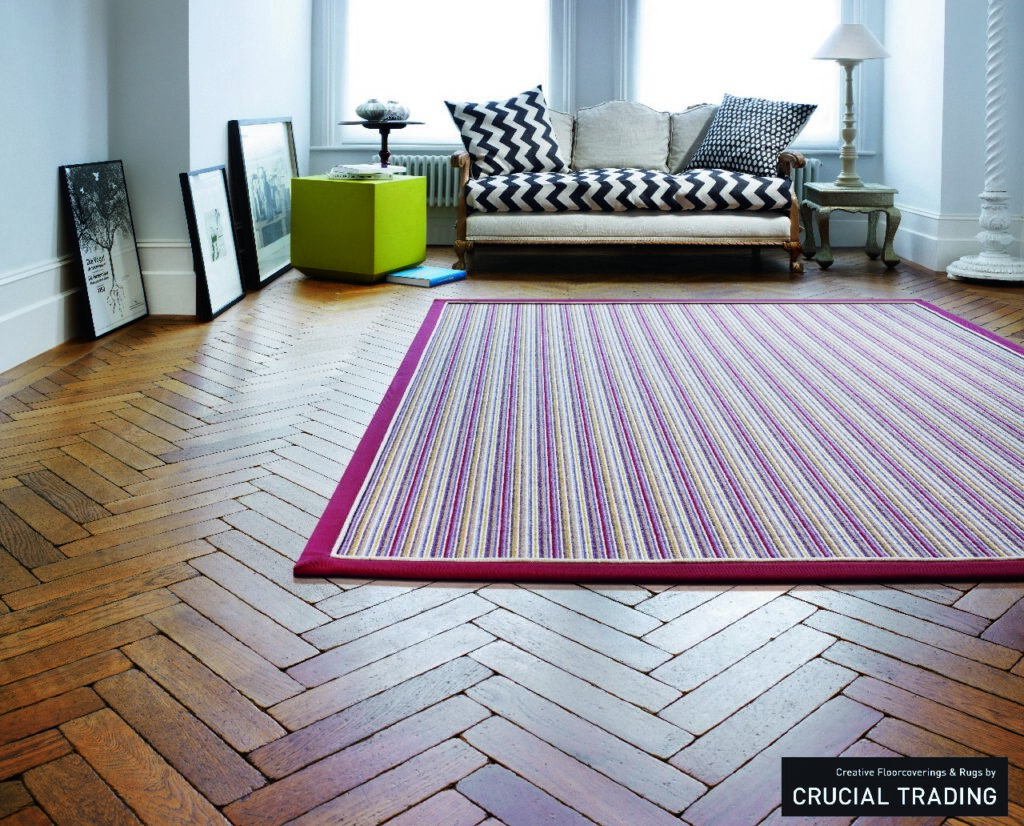 RUG SIZES: CHOOSING THE RIGHT SIZED-RUG
Rugs come in a wide variety of sizes and made-to-order rugs, like those designed in our Rug Creator, can be constructed to any size.
The first thing to decide on is do you want to fill the room or define different areas within it? If you choose to define different zones in your rooms by using multiple smaller rugs, ensure these complement one another so they don't battle for attention.
If you're looking for one large statement rug, there are some basic floorplan rules you should follow.
Area rug floorplans
The key to adding style to your interior through the use of a rug is by choosing the right size. A rug that is too small can have the opposite effect and make the room feel disjointed.
It's very common to choose a rug that is too small for the space. However, the floorplans below should give you the guidance you need when measuring up.
Living room
A rug should fit the size of your seating area and be as large as possible within it. Ideally, all the furniture will sit on the rug, but front-legs-only is a good and common compromise. This option is perfect for uniting a room.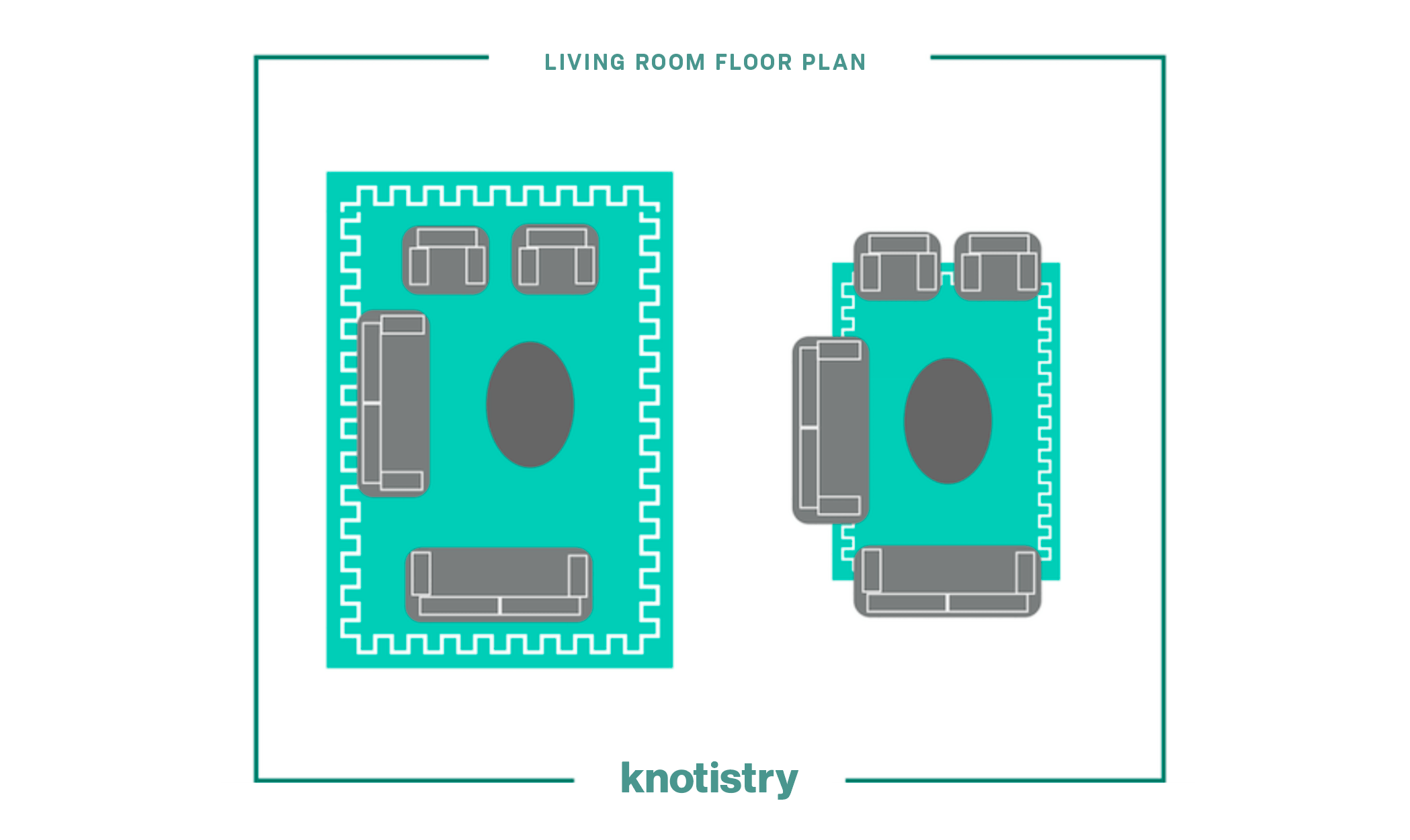 Dining room
As with the living room, you want to ensure that all your dining furniture sits on the rug. With enough space to be able to pull the chairs back and still have them sitting on the rug. The shape of rug you pick will be determined by whether you have a rectangular or circular dining table.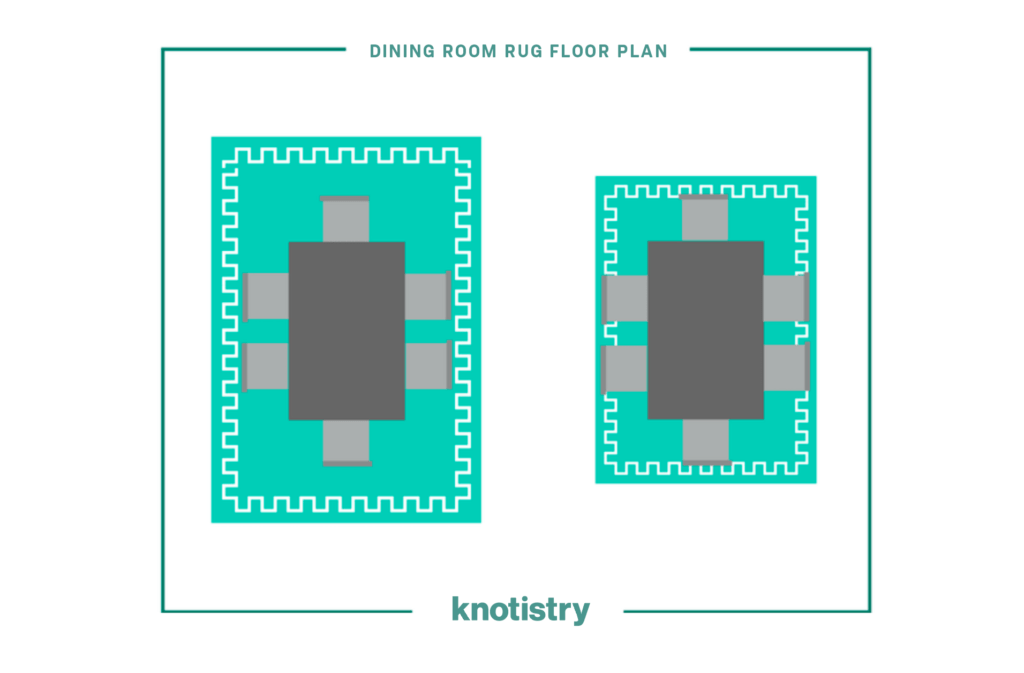 Bedroom
When it comes to bedroom rugs, there are three classic floorplan options.
The first, is to choose a rug large enough to accommodate all your bedroom furniture, therefore leaving only a border of bare floor showing around the edges of the room.
The second is to select a smaller rug that will peek out from the foot of the bed. The rug won't extend all the way to the head of the bed and the bedside tables will not sit on the rug at all.
The third option will keep your rug budget to a minimum whilst not compromising on style. Instead of using one large rug, use two runners to lie beside the bed.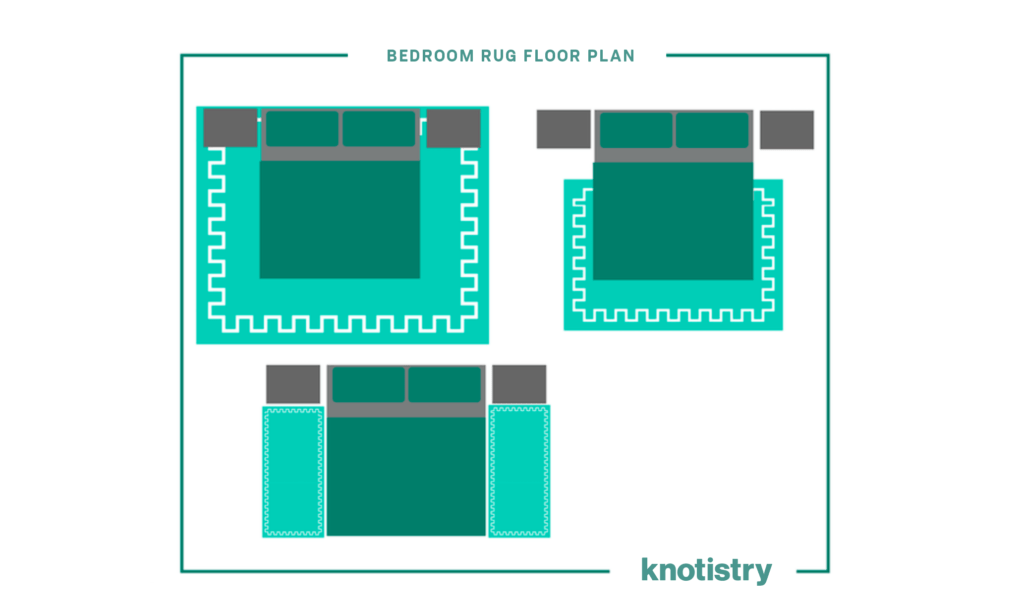 As a general rule, if in doubt always choose the larger option. It's more stylish to have a large rug than one that is too small for the room.
RUG DESIGNS: PICKING THE RIGHT DESIGN
Whether you're designing a room around your chosen rug, or adding the rug to an existing scheme, remember that a bold pattern or print will become a focal point, whereas a more neutral rug will blend in with your existing decor.
Texture is probably the most overlooked aspect when choosing a rug, but it shouldn't be, especially when choosing a natural material. A room with a complimentary mix of different textures feels rich and layered; an easy way of achieving this Is through using the largest piece of furniture in the room, the rug.
If your walls or textiles are busy, a neutral or single-colour rug with a simple border will sit better among them. Hand-knotted and flat-woven styles are both ideal for this.
For rooms that are more minimalist or neutrally designed, textured and patterned rugs can add interest. Think hand-tufted or patterned rugs in these cases.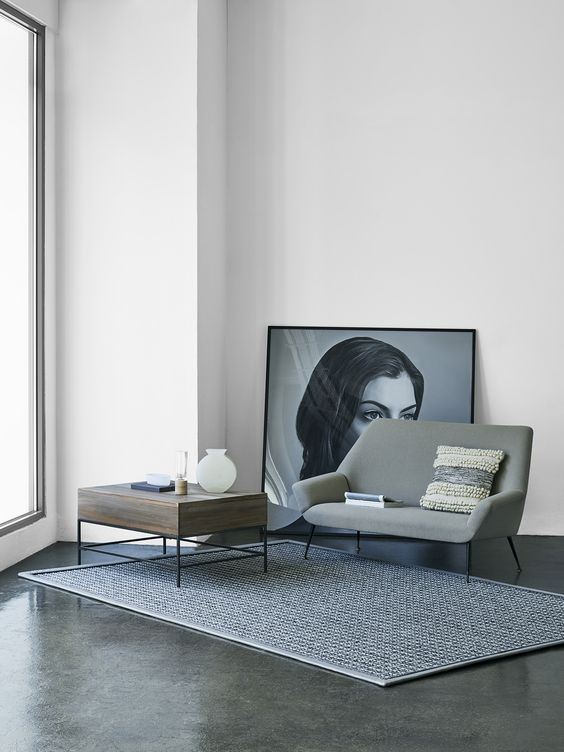 RUG COLOURS: CHOOSING THE RIGHT COLOUR & PATTERN
When it comes to choosing the colour of your rug you should be guided by four things.
The colour of your carpet or wood flooring
If you're looking to make a statement in your room, you want to create contrast between your rug and current flooring. A black or dark grey rug will not look as good as it would against a lighter carpet. Just as a cream or neutral coloured rug will not stand out on a light wood or pale carpet.
Your existing furniture
Make sure you choose a rug that's colour scheme complements your existing room's décor, not conflicts with it. A stylish choice is to subtly pick out the key colours of your room within the rug. For example, if you have ochre furniture and grey walls, choose a rug that combines these colours.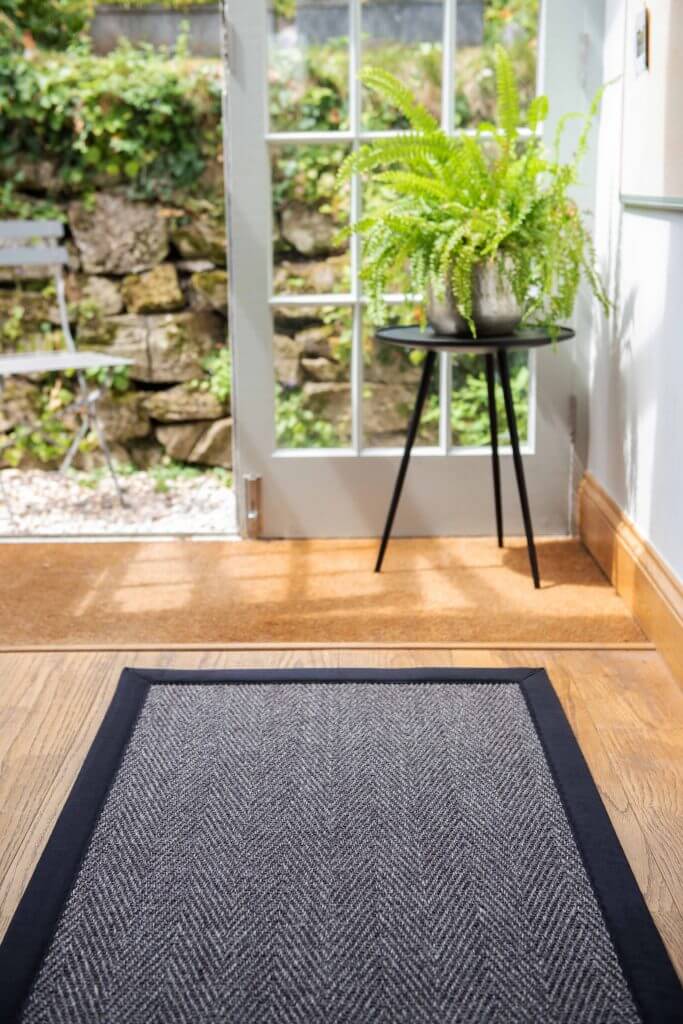 Alternatively create complimentary contrast by combining colourful rug borders with key pieces.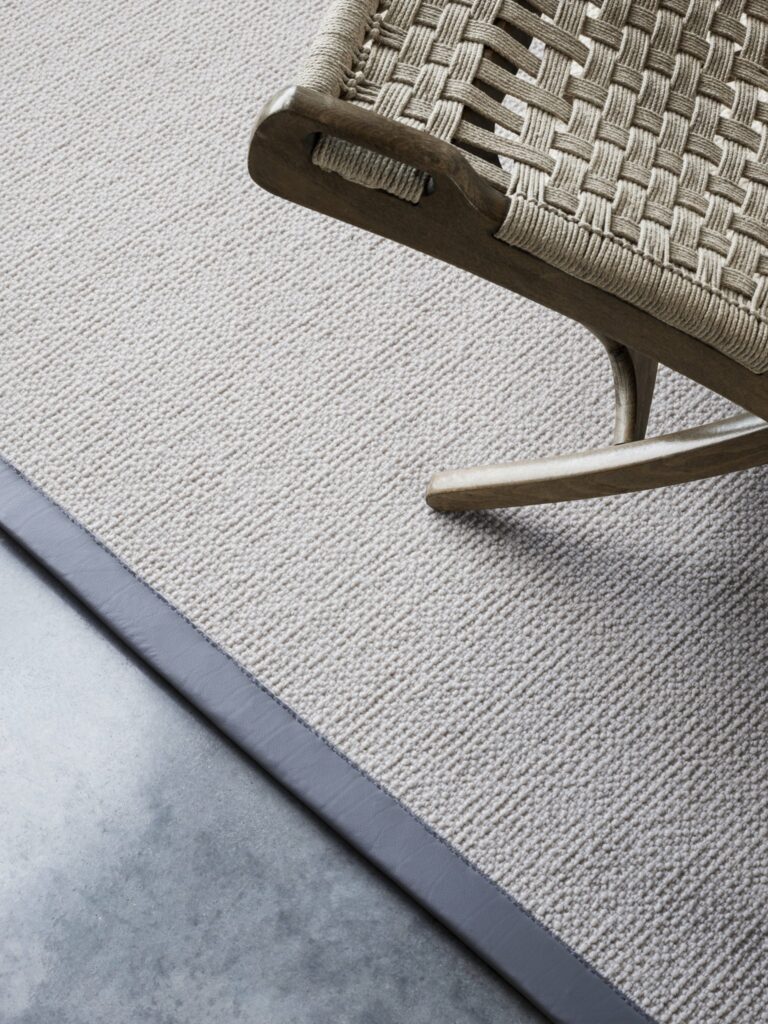 The space
Dark coloured rugs make a room feel more intimate, whereas a lighter rug makes smaller spaces appear larger.
The room
If you're looking for a new hallway rug and have young children or pets, a white woollen rug would not be ideal. However a hard-wearing material such as Sisal in a darker colour would be more suitable whilst still being stylish.
Choosing the right rug borders & runners
Remember that colourful borders can create just as much impact as a colourful rug itself. Colourful rug borders are a great way to introduce bold colours to natural rugs. The same style rules apply here; either choose a border that matches your furniture or pick a bold colour that compliments your key pieces.
Rugs with matching runners
If you're looking for a new hallway rug you may also consider matching runners for your landing and a stair runner. Remember that rugs and runners don't have to match exactly but again you want to choose complimentary colours and patterns to create unity.
Rug Shapes
Retangular rugs
A rectangular rug is perfect for larger rooms and often comes in a wide variety of sizes, from runners to large area rugs, as standard making it the most traditional choice.
Square rugs
Square rugs are more commonly used in square rooms or when defining different zones within a room.
Circular rugs
Round rugs are ideal in smaller rooms or rooms with key pieces of similar shape. For example, if you have a round dining table, a circular rug is a perfect addition.
Looking for a more unusual shaped rug? Give our team a call on 0117 370 2762 to discuss the different custom-made options available at Knotistry.
RUGS BY ROOM
Living room rugs
As one of the busiest areas in the home, living rooms rugs need to be comforting but also hard-wearing, especially if you have young children or pets. Sisal makes an ideal choice due to heavy-duty warmth and variety of colours and patterns.
Bedroom rugs
Being the first thing your feet touch in the morning, bedroom rugs should be cosy and warm. Consider a 100% wool rug to bring sophistication and comfort to your bedroom. From block-colour rugs to patterned and textured styles, there are options available to compliment all decors.
Dining room rugs
The warm-tweedy look of jute makes it the perfect material for a dining room rug. Just remember to blot any spills immediately to reduce the chance of marking.
Rugs for kitchens
When it comes to rugs for kitchens, seagrass is by far the most suitable of the natural flooring range as it is less prone to water-marking. Be wary that all rugs are a trip hazard and can be especially dangerous in the kitchen. Ensure your kitchen rugs are stuck down securely using high-quality rug tape.
Hallway rugs
Coir hallways rugs are an ideal choice. They are incredibly durable meaning that they can be used in high traffic areas where other natural carpets might not be tough enough to withstand the footfall.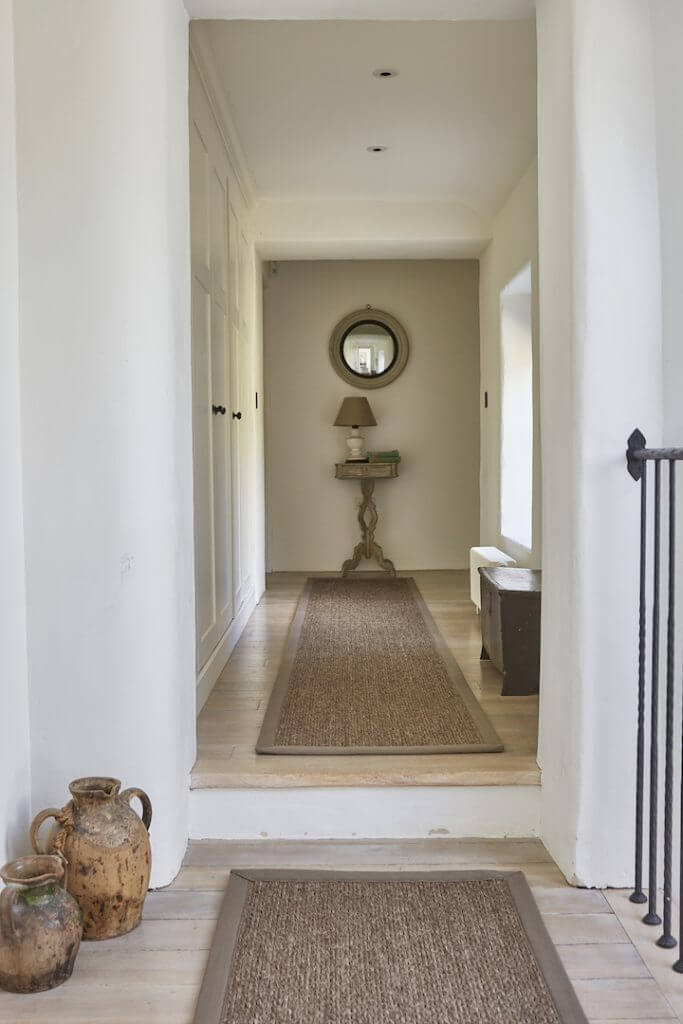 WHERE TO BUY RUGS?
With more and more people taking an interest in interior design and home furnishings, there is more choice than when it comes to buying flooring. If you prefer to shop for rugs in person, there are numerous chain and independent stores available up and down the country. However, shopping online gives you more choice and more flexibility.
At Knotistry we understand the importance of choosing the right natural carpets and rugs for your home. That's why we offer a wide selection of affordable, pure wool rugs and natural floor runners, as well as a custom-made rug design service.
By selling online we can offer the highest quality flooring for your home at excellent prices.
DESIGNING YOUR OWN RUG
If you have the ideal rug in mind but haven't been able to find it, designing your own rug is ideal. Our online rug creator allows you to design bespoke custom-made rugs in a variety of materials, styles and sizes.
We offer free samples to ensure that your chosen material fits your décor, before you place your order.
PRACTICAL CONSIDERATIONS WHEN BUYING A RUG
Rugs for hardwood floors
Hardwood floors paired with complimentary rugs exudes style. Ensure that your new rug is secure by using a non-stick rug pad or rug tape.
We have a wonderful selection of natural rugs to choose from as well as a custom-design service. Can't decide between different materials, shades of textures? Order 2 free samples and get them delivered to your door with same day dispatch. Our friendly and expert team are on hand for advice. Simply call us on on 0117 370 2762 or email [email protected]
If you're wondering where to begin, these design principles will help you enjoy a cosier, more comfortable winter.
With winter just around the corner, there's no better time to give your house a cosy makeover. The darker, brisker evenings mean more time spent at home, but by warming up your living space with some simple design tricks, you can make the long British winter just that little more snug.
If you're wondering where to begin, that's where Hygge comes in. The Scandinavian design is currently all the rage, and by adopting a few of the design principles, you'll enjoy a cosier, more comfortable winter spent at home.
WHAT DOES HYGGE MEAN?
To understand the ideology behind the design, it's worth exploring the meaning of the word "hygge".
Pronounced 'hoo-ga', it's thought that hygge originally meant "wellbeing" in Norwegian. However, as far back as the 18th century, the Danes have been using the word to mean something along the lines of "cosiness" and "comfort".
But there's no literal translation into English. In Danish, hygge can be used to describe both emotional and physical states. For example, you can "hygge" while taking a long bath and relaxing, while a cosy and comfortable space can also be "hygge".
WHAT IS HYGGE STYLE?
As you can imagine, hygge style and design is all about cosiness and comfort.
Any design element that makes you feel at ease and comfortable is hygge. Think: thick blankets, warm lighting, textured cushions, neutral colours, candles, and textured flooring.
Although the style looks great throughout the year, due to its Scandinavian roots, hygge interior design really comes to life during the winter months. It evokes a sense of warmth and security that can make even the longest winter feel nothing but deliciously indulgent.
So if that's what you're craving this winter, then let's look at how you can inject a bit of hygge into your home.
TIPS TO HYGGE-STYLE YOUR HOME
The beauty of hygge is that you don't have to invest a lot in order to produce the comfy effect you want. You can inject a little or a lot of the hygge ideology by simply adding accessories like rugs, cushions, blankets and lighting. Here are some simple tips to get you started.
1. HYGGE YOUR HOME WITH NEUTRAL CARPETS & RUGS
Rugs are great for injecting a sense of comfort and warmth into any space. When used over carpets, they create a variety of textures and layers, automatically creating the hygge feeling. When it comes to rooms with bare floorboards, tiles or linoleum, they evoke actual warmth while also softening the appearance of the floor.
In addition, the sensation of thick, cosy rugs under your feet will conjure an instant feeling of warmth and cosiness. Even a thin carpet can take the edge off a room, making the space feel instantly softer. For a real hygge effect, opt for white, grey or generally neutral flooring.
At Knotistry, we stock a wide range of rugs and carpets that are perfect for hygge style interiors. From jute to wool, our eco-friendly rugs and carpets are long lasting, made from the highest quality natural materials and designed with style and sophistication in mind. Here are some of our favourite hygge style products:
Pictured in Silk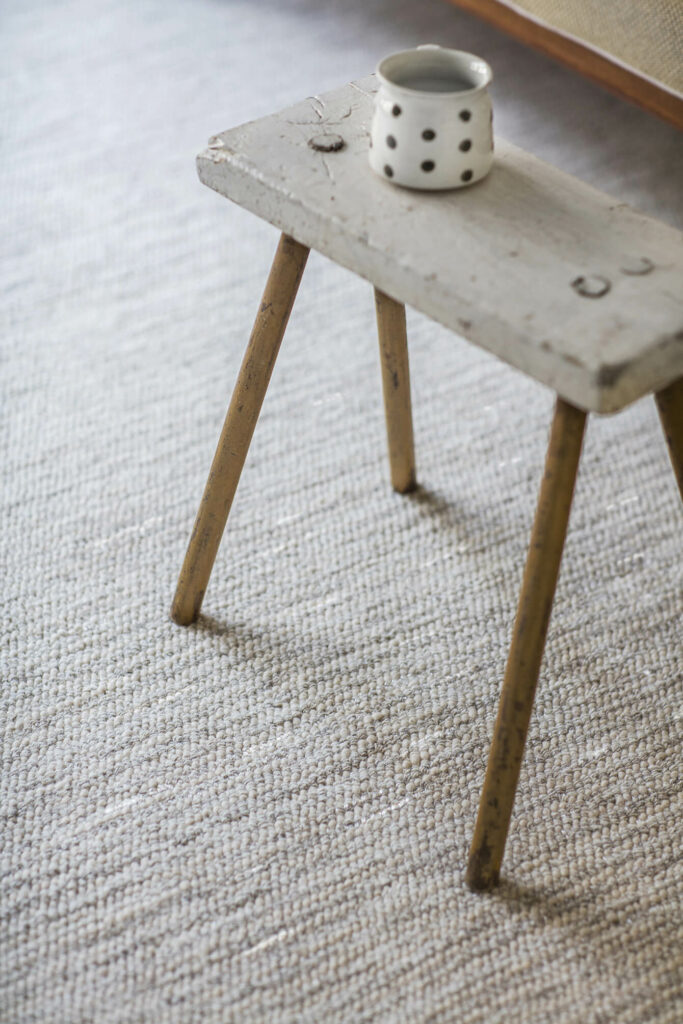 Pictured in Tigers Eye with double cotton borders in Porcelain and Grey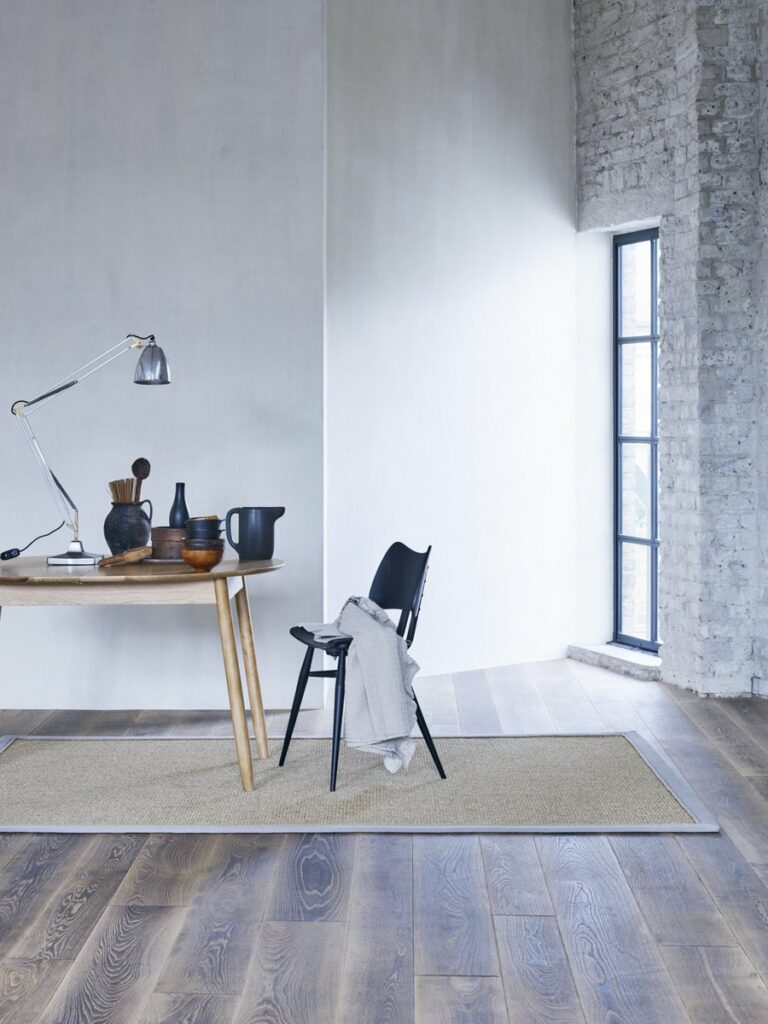 Pictured in Zinc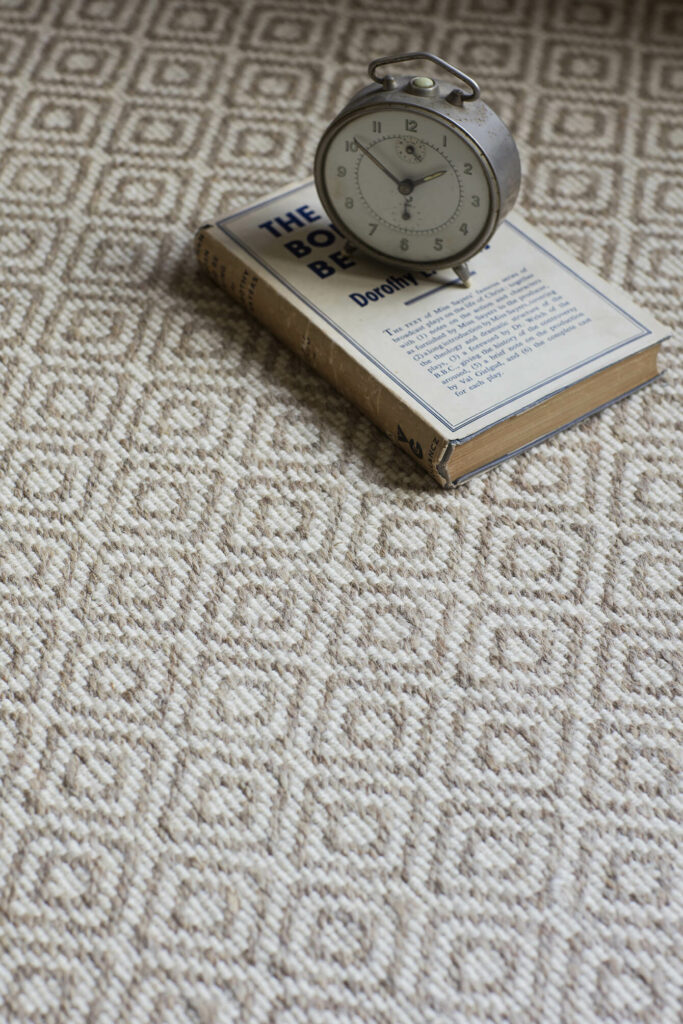 Pictured in Lasque
2. CHOOSE NEUTRAL, LIGHT COLOURED FURNITURE
Hygge design is based on calming, neutral colours. So, if you want to achieve the soft, comforting feeling hygge is famous for, it's crucial you avoid bold prints and bright colours across the home.
Instead, opt for shades of whites, beiges and light greys. This is especially important when it comes to the colour of flooring, furniture and curtains. As these are the most prominent features of a room, getting these right will help you achieve the overall hygge atmosphere more easily.
3. LAYER AND TEXTURES
Layering and using different textures immediately injects a sense of soul into a home – especially when you compare it to a flat, one dimensional interior design. Textures and layers give the impression a space has evolved over time, and that it's been loved and lived in along the way – and both of these principles are extremely hygge!
Use textures such as woven and knitted wool alongside faux furs and light throws to create a sense of dimension, comfort and warmth. For example, on floors, layer different textured rugs over carpets. On sofas and beds, scatter chunky cushions and woolly throws to create a snug and warm oasis.
4. CHOOSE BARE WOOD AND WHITE FURNITURE
When it comes to choosing hygge friendly furniture, dark woods and paints should be avoided.
Instead, opt for neutrally painted furniture, or furniture made out of light coloured wood such as beech or ash. This will create a strong hygge base which you can later add to with layers of accessories. If you don't want to change your existing furniture, consider giving it a hygge style makeover by painting it a neutral shade of white or grey.
5. USE TYPICAL NORDIC GEOMETRIC PATTERNS
While bold patterns are a big no when it comes to hygge interiors, light geometric patterns get the green light.
Typically, Nordic patterns are characterised by straight, crisp lines in clean hues and mid-strength greys. These are subtle and intricate, and by adding these sorts of geometric patterns via your accessories and flooring, you'll quickly achieve the delicate yet comfy Scandi-style you're after.
6. ADD CANDLES, WARM LIGHTING AND OPEN FIRES
Lighting plays a huge part in creating warm and comforting spaces – and the wrong lighting can break the hygge atmosphere instantly.
Luckily, capturing the beauty of warm lighting is not difficult to achieve. Simply by placing candles throughout your home, a space can be transformed into a warm, cosy haven. This can be enhanced further with soft yellow tinted lightbulbs, dimmed floor lamps and, even better, a roaring log fire.
7. SHARE YOUR SPACE WITH FAMILY AND FRIENDS
The real art of hygge comes to life when your home is filled with the people you love and cherish most.
So, once your home has received the hygge treatment, invite your loved ones to spend time with you there. Bond over a comforting, nourishing meal, cosy up on the sofa with blankets and throws and enjoy spending time with the people most important to you.
HYGGE-STYLE RUGS AND CARPETS AT KNOTISTRY
At Knotistry, our flooring products are designed with the upmost care and detail. Every one of our rugs and carpets are long lasting, made from the highest quality sustainable materials and designed with style and sophistication. They're stylish and affordable, made to last, and are environmentally friendly.
We have a wonderful selection of 100% natural products that are perfect for a hygge style home. Choose from our new eco collection, where each product is completely natural and woven in a variety of textures and natural colours.
Discover our wide range of carpets and rugs online, order free samples and take your first step to brining hygge to your home.
Browse some of Crucial Trading's imagery from their beautiful 2016 brochure…
Back in August, we got a first look at Crucial Trading's new brochure. For those that haven't yet had the pleasure of flicking through its pages, we thoroughly recommend it!
Here is a sneak preview of some of their wonderful new lifestyle imagery – if there's a product that you see that's not yet available on our website which you'd like to see a sample of, call our sales line – 0117370 2762, or email us on [email protected]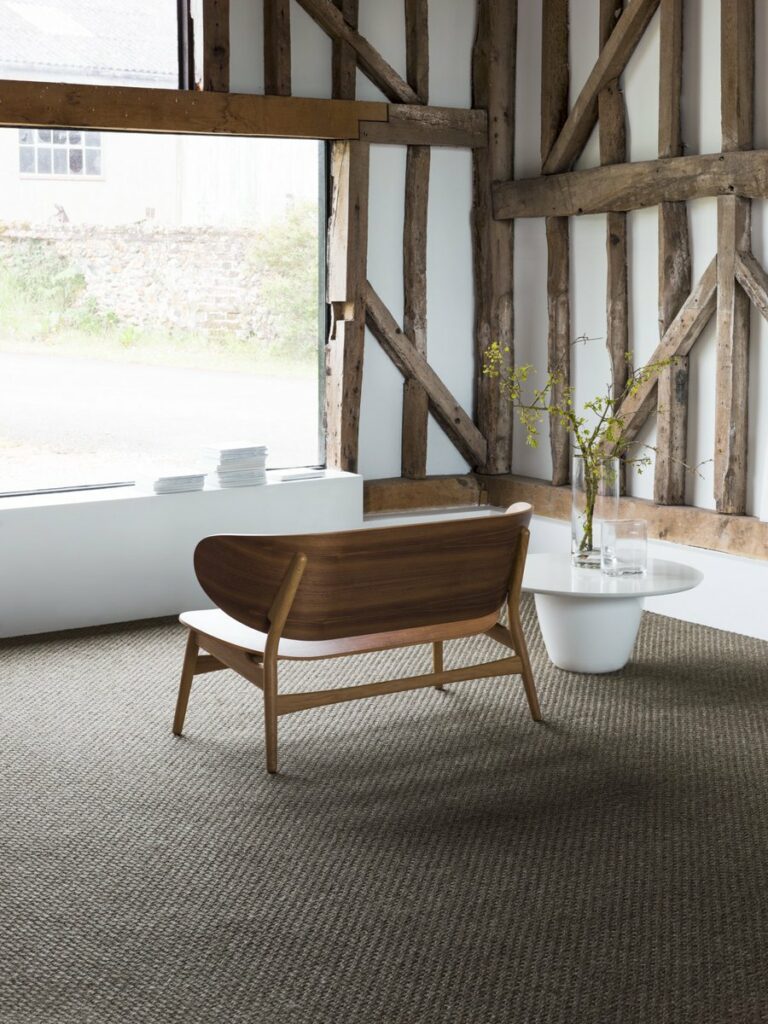 The Sisal Aztec Maize is a sumptuous, thick weave Sisal carpet, woven in an incredibly durable panama weave.
The Sisal Aztec Range, this time in the colour Alabaster is also available to make into a rug using our Rug Creator!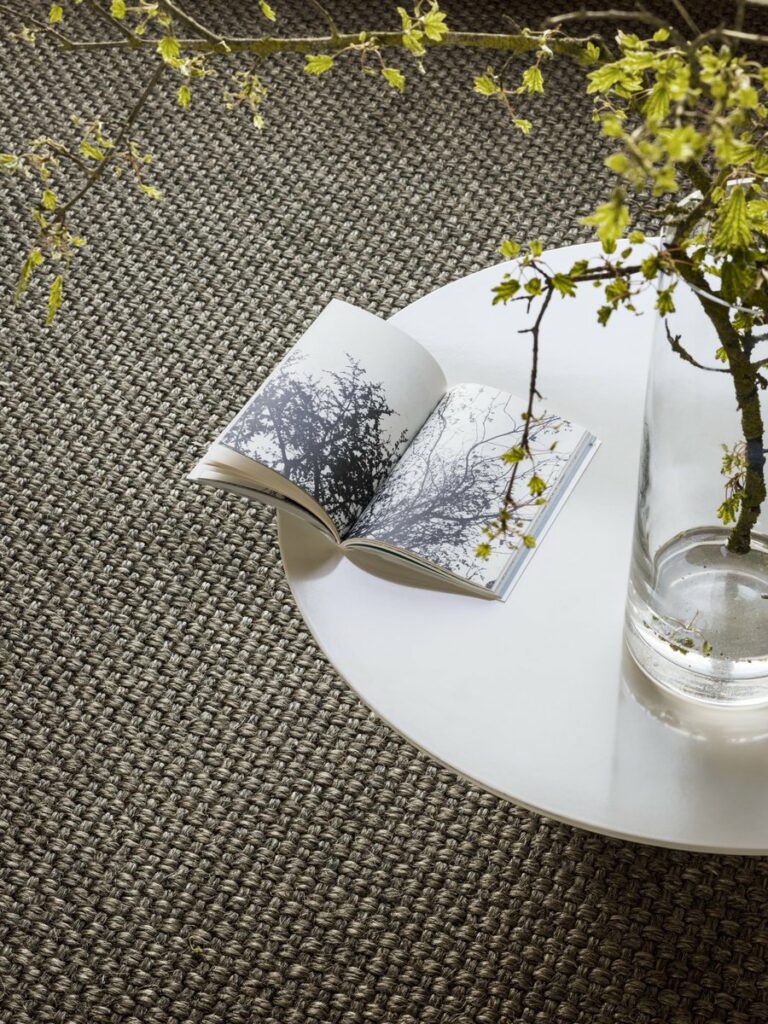 Here's Crucial Trading's Sisal Grand Herringbone Praline – a super-strength Sisal carpet that's so tough, it's even contract rated for commercial projects!
We've been wanting to get our hands on Crucial Trading's new Harmony Sisal range for months now! Available in a laid-back palette of cool blues, neutral greys and calming creams in Boucle and Herringbone weaves, the Harmony collection is truly innovative in Sisal carpet manufacturing.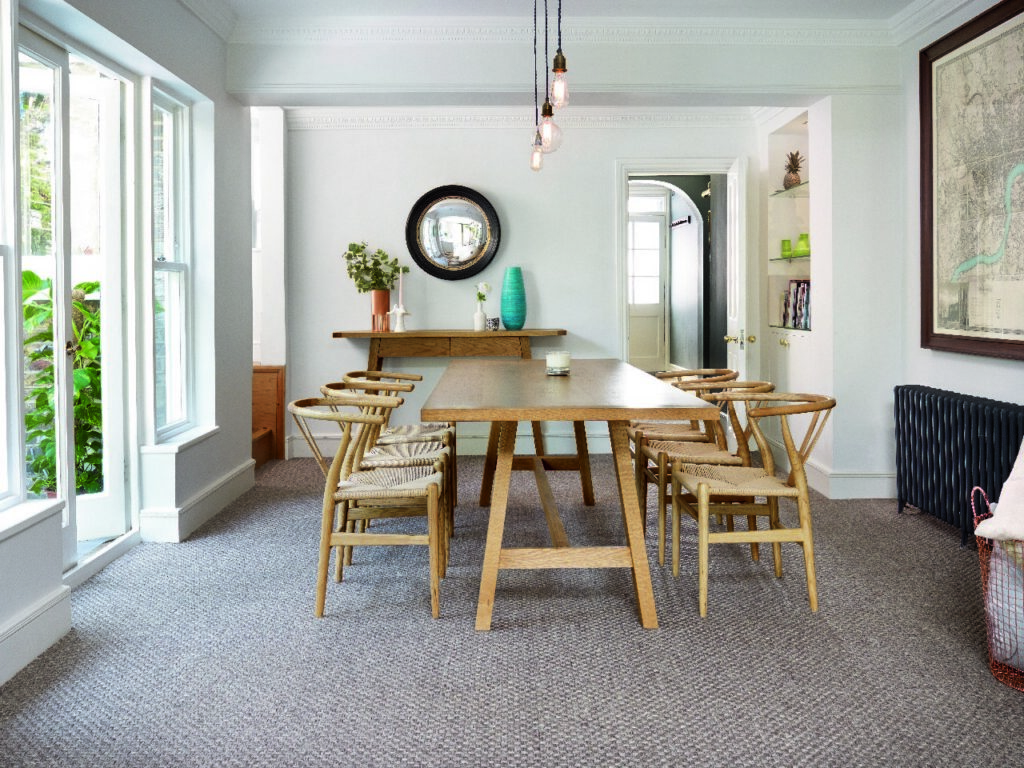 Coir has always been our favourite bit of rough at Knotistry. It has a cosy, rusticating effect on a floorspace, as Crucial's Coir Boucle Natural shows here.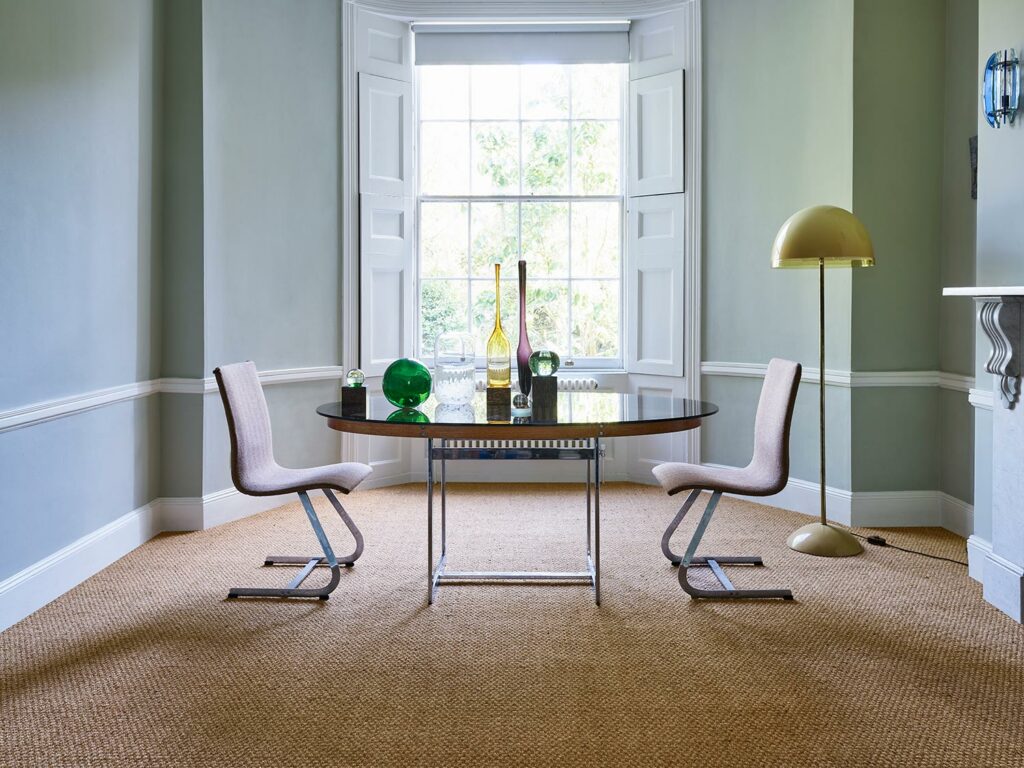 Wool Opal, colour Mousey Brown. 100% wool, heavy wearing, moth protected, available in 4m and 5m widths – a fantastic all-rounder!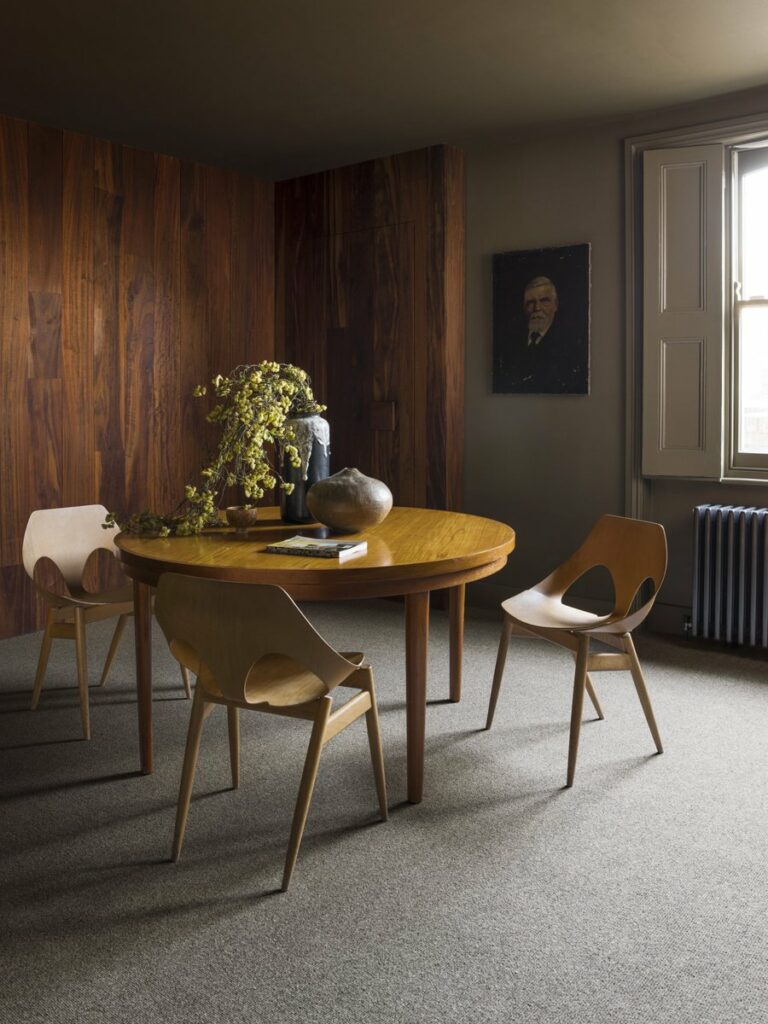 Wool Storm, colour Chalk. The Wool Storm range employs a tight uniform loop in greys and creams – perfect for areas where you need the warmth of a wool carpet which tones in nicely with a light, muted decor.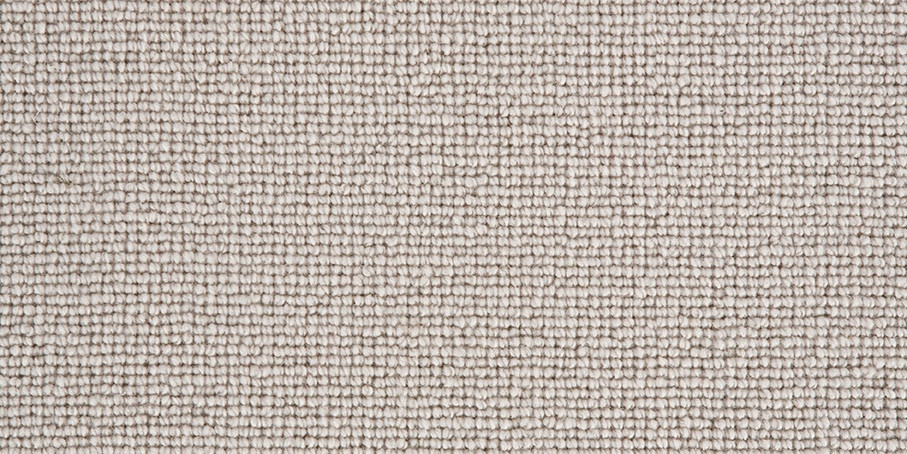 Bringing warmth and sensuality to a floor space, Crucial Trading's Sisal Small Boucle Accents, colour Scarlet is one of our favourites this winter.
To browse Crucial Trading's full collection, visit their website. Call us on 0117 370 2762 or email us on [email protected] for prices and availability.