Fitting & Measuring
The simple way to a first-class finish. With brands such as Alternative Flooring and Crucial Trading, we're here to guide you on the fitting of your natural flooring. Read our Measuring Guide for tips.
Natural flooring is a unique product requiring specialist fitting knowledge.
Fitting it is skilled labour and most fitters are self-employed. At Knotistry, we will try our best to put you in touch with fitters who are able to do the work, however, we are unable to assume liability for the actual fitting of the floor.
The fitters that we suggest will generally be registered with the National Institute of Carpet and Floorlayers (NICF). This is a trade association which promotes excellence in the industry. We will also try to put you in touch with fitters who have fitted our products before, however in some parts of the United Kingdom, or if you need to get a floor down in a given time-frame, this is not always possible. You will be paying the fitter directly for the fitting work. Any issues or complaints you have with the fitting of the carpet must be taken up directly with your fitter.
Measuring Guides
Simple steps to a tailor made finish
Download our easy to use, printer-friendly measuring guides. Written in plain English, our step-by-step instructions will help you accurately measure your room or stairs before ordering.
Download Measuring Guide
Using Your Own Fitter
Alternatively, if you've used a carpet fitter in the past and would like to use them again to fit your natural carpets, then all our flooring products can be purchased without fitting.
We recommend you ensure that your fitter is NICF approved and is familiar with fitting requirements for the type of carpet you have purchased. And if they experience any difficulties our natural flooring specialists are always on hand to offer friendly, expert advice.
If you are looking for a fitter in South-West England, then we highly recommend TF-Fitting Service. www.tf-fittingservice.co.uk. Call for a fitting quote: 07871 192 852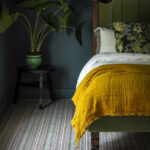 Advice On Fitting
The plant-based fibre carpets – Sisal, Seagrass, Jute and Coir – should be fitted with the double stick system. An underlay is glued to the sub-floor, then the carpet is glued to the underlay, with gripper rods used around the perimeter. Our Wool carpets can be stretch-fitted in the traditional manner, although double sticking will provide the carpet with more stability due to the combined weight of the carpet and underlay.
We recommend budgeting at least £20.00/m2 for fitting using the double-stick system, including underlay, grippers, adhesive and labour for fitting in a straight room. Staircases and landings will usually incur additional costs as they are more labour intensive to fit. The £20.00/m2 figure is based on an industry average. The fitting price is ultimately down to the fitter's assessment of the job.
We recommend giving yourself a buffer period of about 48 hours between delivery of your carpet and any fitting date agreed with your fitter. This will allow the carpet to acclimatise in the area, and, in the unlikely occurrence of a problem with the delivery, will give you time to re-arrange the fitting date.
Contact us and we'll find a trusted fitter near you!