Workspace provider WeWork got in touch with knotistry about providing natural rugs for their European offices. With a keen commitment to sustainability, our team of experts got stuck in, selecting the right material and style for WeWork's brand.
About WeWork
Founded in 2010, WeWork is an eco-minded, global community of collaborative workspaces. Their vision is to create eco-friendly environments where teams can come together and feel motivated and content.
WeWork's values do not stray far from our own. They are committed to being a force for climate change, vowing to become carbon-neutral by 2023.
"Our approach to sustainability examines our impact on cities, communities and our members through three key pillars: energy, materials and health. We believe that each one of us can make an impact on the world." – Founder of WeWork, Miguel McKelvey
Here at knotistry, we work closely with our suppliers to ensure that our products are sustainably sourced. Our team can create eco-friendly rugs, carpets and wooden floorings for your business. All of our natural fibre rugs can also be custom-made.
Read more about our ethical processes and sustainable values here.
The Design Process: The Sisal Rug
WeWork contacted knotistry for natural rugs. As the rugs were for their breakout offices and other public spaces, they needed to be durable. WeWork's contemporary offices blend functionality with a natural, airy design, so it was essential that our rugs fit in. However, each office space varied in different ways, so it was important for WeWork to collaborate with a supplier who could tailor unique rugs for each space. knotistry ticked all the boxes.
Based on this brief, our team recommended sisal rugs. These natural fibre rugs are durable and come in several shades and patterns. Sisal rugs are also 100% handwoven and natural, the perfect combination. Plus, they have a lifespan of 8 years, ideal for office rugs.
After deciding that sisal was the best natural fibre rug for WeWork, our team at knotistry began creating custom-made rugs for WeWork's offices. We sent a large number of samples for WeWork to choose from. This way, they had a good idea of the styles and colours available, and an overall feel for the product.
Their favourite design was a Sisal Malay Chen rug with a cotton biscuit border.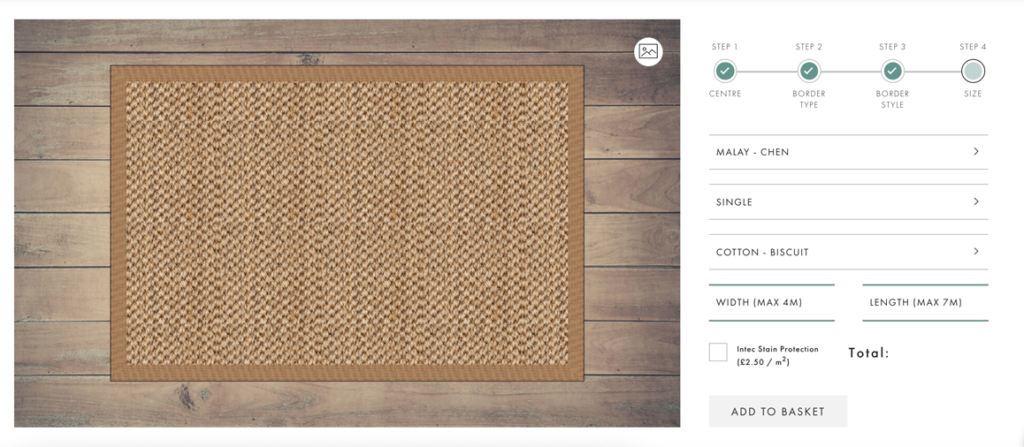 Other designs selected included:

These rugs would be the focal point for many large, open spaces. The final sizes for this particular project ranged from 4m x 5m up to 7m x 5m. As sisal is a plant-based fibre range, the rugs require an underlay to provide more stability.
knotisty's custom-made rugs can now be seen in WeWork's Berlin, Paris, Madrid, Dublin and Amsterdam offices. Each rug complements their contemporary styles, adding a natural element to their offices. The sisal rugs are tough enough to endure high-traffic areas without compromising on aesthetics.
Commercial Flooring from knotistry
Here at knotistry, we understand that one size does not fit all. That's why we offer a commercial carpet and rug service. Our expert team can provide guidance for your projects, helping you find the right fit. We can also supply a team of fitting experts to help ensure your carpets are correctly installed. The interior of your workspaces need to reflect your brand, and we can help you achieve that with our natural rugs and carpets.
Sustainability is the cornerstone of what we do. Our handcrafted rugs, carpets and floorings are natural and responsibly sourced, so we can guarantee an ethical and stylish product for your business. For every order received, we'll plant a tree with the Woodland Trust. Choosing knotistry as your natural flooring provider is a great way to help make a difference.
Browse through our website to see what kind of flooring we provide. If you can't quite find what you're after, let us know and we'll help put together a design.
To find out more about how we can enhance your business' workspace, get in touch today by calling 0117 370 2762, or making an enquiry.