If you're wondering where to begin, these design principles will help you enjoy a cosier, more comfortable winter.
With winter just around the corner, there's no better time to give your house a cosy makeover. The darker, brisker evenings mean more time spent at home, but by warming up your living space with some simple design tricks, you can make the long British winter just that little more snug.
If you're wondering where to begin, that's where Hygge comes in. The Scandinavian design is currently all the rage, and by adopting a few of the design principles, you'll enjoy a cosier, more comfortable winter spent at home.
WHAT DOES HYGGE MEAN?
To understand the ideology behind the design, it's worth exploring the meaning of the word "hygge".
Pronounced 'hoo-ga', it's thought that hygge originally meant "wellbeing" in Norwegian. However, as far back as the 18th century, the Danes have been using the word to mean something along the lines of "cosiness" and "comfort".
But there's no literal translation into English. In Danish, hygge can be used to describe both emotional and physical states. For example, you can "hygge" while taking a long bath and relaxing, while a cosy and comfortable space can also be "hygge".
WHAT IS HYGGE STYLE?
As you can imagine, hygge style and design is all about cosiness and comfort.
Any design element that makes you feel at ease and comfortable is hygge. Think: thick blankets, warm lighting, textured cushions, neutral colours, candles, and textured flooring.
Although the style looks great throughout the year, due to its Scandinavian roots, hygge interior design really comes to life during the winter months. It evokes a sense of warmth and security that can make even the longest winter feel nothing but deliciously indulgent.
So if that's what you're craving this winter, then let's look at how you can inject a bit of hygge into your home.
TIPS TO HYGGE-STYLE YOUR HOME
The beauty of hygge is that you don't have to invest a lot in order to produce the comfy effect you want. You can inject a little or a lot of the hygge ideology by simply adding accessories like rugs, cushions, blankets and lighting. Here are some simple tips to get you started.
1. HYGGE YOUR HOME WITH NEUTRAL CARPETS & RUGS
Rugs are great for injecting a sense of comfort and warmth into any space. When used over carpets, they create a variety of textures and layers, automatically creating the hygge feeling. When it comes to rooms with bare floorboards, tiles or linoleum, they evoke actual warmth while also softening the appearance of the floor.
In addition, the sensation of thick, cosy rugs under your feet will conjure an instant feeling of warmth and cosiness. Even a thin carpet can take the edge off a room, making the space feel instantly softer. For a real hygge effect, opt for white, grey or generally neutral flooring.
At Knotistry, we stock a wide range of rugs and carpets that are perfect for hygge style interiors. From jute to wool, our eco-friendly rugs and carpets are long lasting, made from the highest quality natural materials and designed with style and sophistication in mind. Here are some of our favourite hygge style products:
Pictured in Silk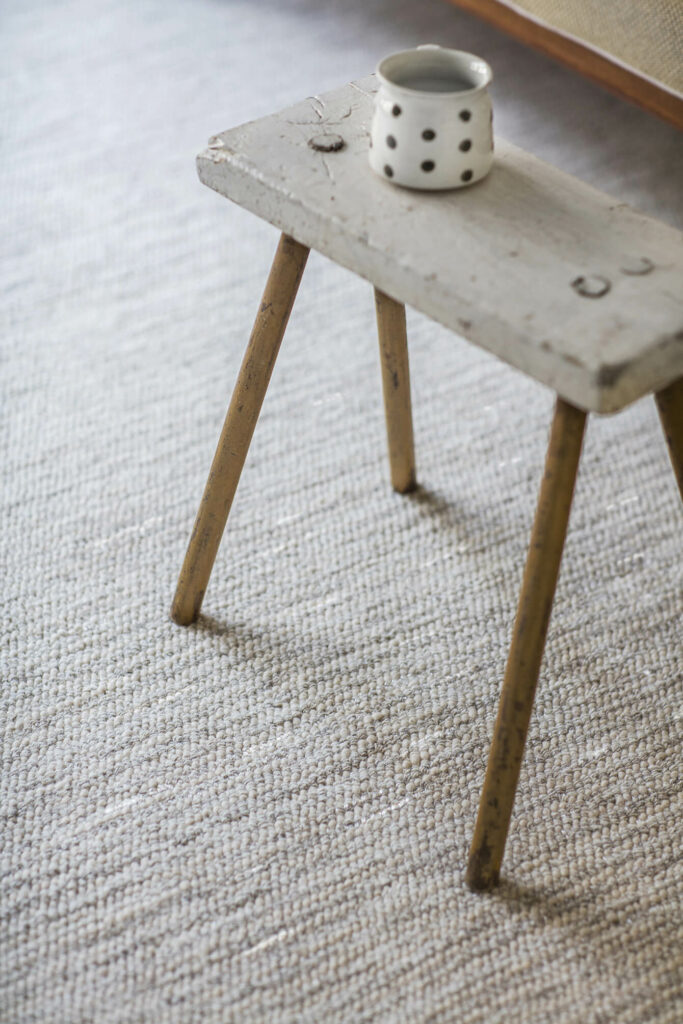 Pictured in Tigers Eye with double cotton borders in Porcelain and Grey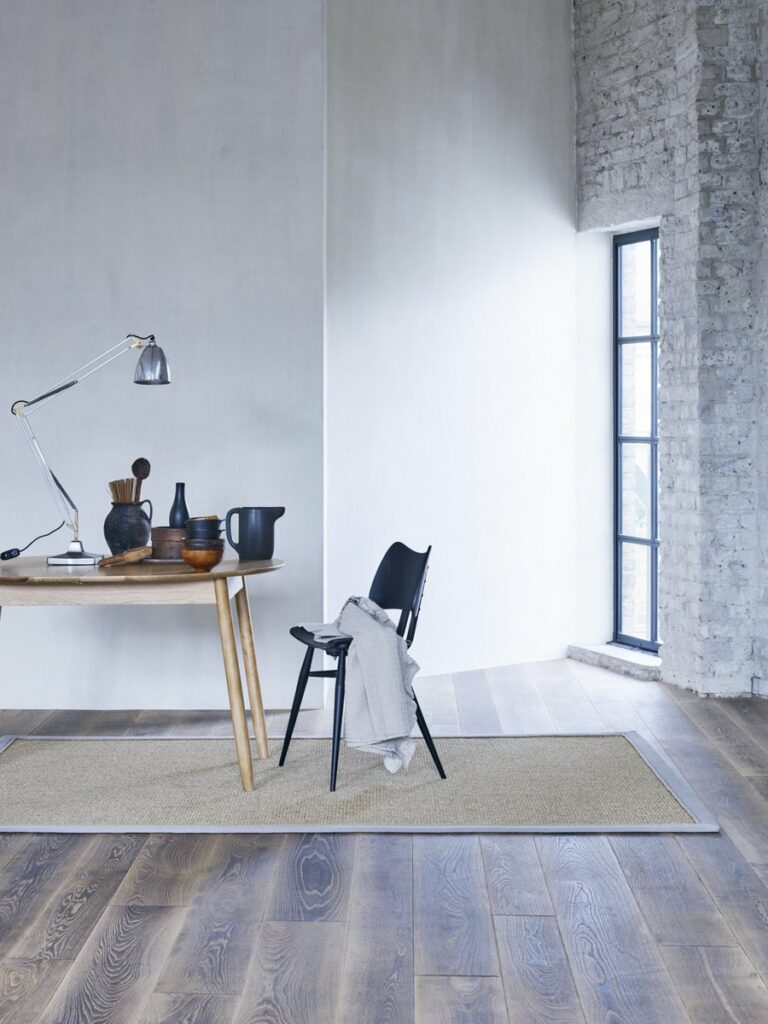 Pictured in Zinc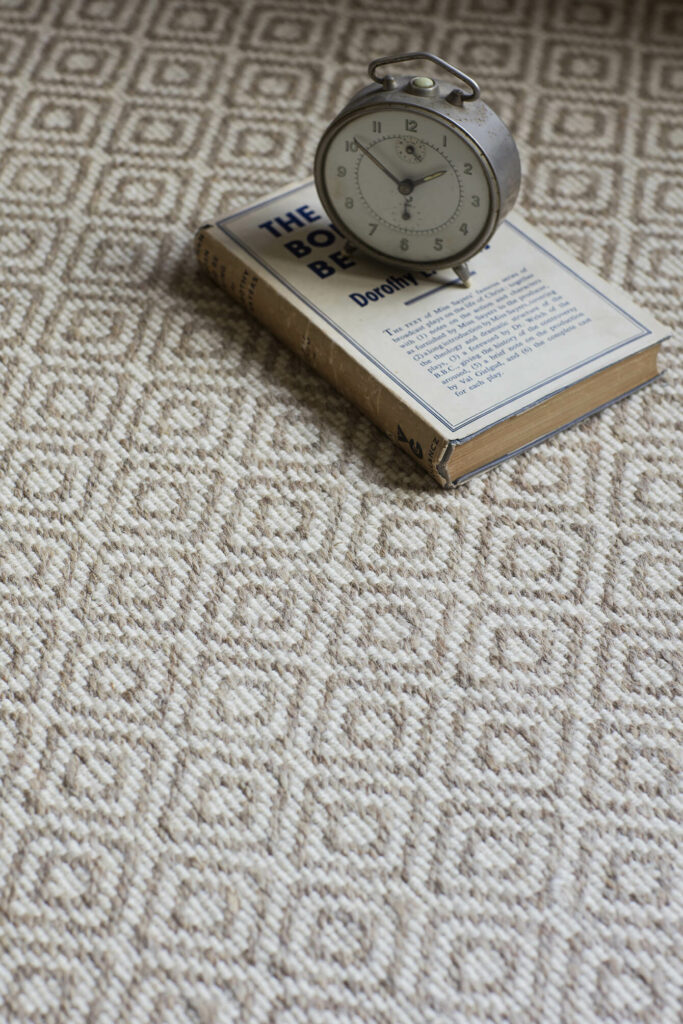 Wool Crafty Diamond carpet
Pictured in Lasque
2. CHOOSE NEUTRAL, LIGHT COLOURED FURNITURE
Hygge design is based on calming, neutral colours. So, if you want to achieve the soft, comforting feeling hygge is famous for, it's crucial you avoid bold prints and bright colours across the home.
Instead, opt for shades of whites, beiges and light greys. This is especially important when it comes to the colour of flooring, furniture and curtains. As these are the most prominent features of a room, getting these right will help you achieve the overall hygge atmosphere more easily.
3. LAYER AND TEXTURES
Layering and using different textures immediately injects a sense of soul into a home – especially when you compare it to a flat, one dimensional interior design. Textures and layers give the impression a space has evolved over time, and that it's been loved and lived in along the way – and both of these principles are extremely hygge!
Use textures such as woven and knitted wool alongside faux furs and light throws to create a sense of dimension, comfort and warmth. For example, on floors, layer different textured rugs over carpets. On sofas and beds, scatter chunky cushions and woolly throws to create a snug and warm oasis.
4. CHOOSE BARE WOOD AND WHITE FURNITURE
When it comes to choosing hygge friendly furniture, dark woods and paints should be avoided.
Instead, opt for neutrally painted furniture, or furniture made out of light coloured wood such as beech or ash. This will create a strong hygge base which you can later add to with layers of accessories. If you don't want to change your existing furniture, consider giving it a hygge style makeover by painting it a neutral shade of white or grey.
5. USE TYPICAL NORDIC GEOMETRIC PATTERNS
While bold patterns are a big no when it comes to hygge interiors, light geometric patterns get the green light.
Typically, Nordic patterns are characterised by straight, crisp lines in clean hues and mid-strength greys. These are subtle and intricate, and by adding these sorts of geometric patterns via your accessories and flooring, you'll quickly achieve the delicate yet comfy Scandi-style you're after.
6. ADD CANDLES, WARM LIGHTING AND OPEN FIRES
Lighting plays a huge part in creating warm and comforting spaces – and the wrong lighting can break the hygge atmosphere instantly.
Luckily, capturing the beauty of warm lighting is not difficult to achieve. Simply by placing candles throughout your home, a space can be transformed into a warm, cosy haven. This can be enhanced further with soft yellow tinted lightbulbs, dimmed floor lamps and, even better, a roaring log fire.
7. SHARE YOUR SPACE WITH FAMILY AND FRIENDS
The real art of hygge comes to life when your home is filled with the people you love and cherish most.
So, once your home has received the hygge treatment, invite your loved ones to spend time with you there. Bond over a comforting, nourishing meal, cosy up on the sofa with blankets and throws and enjoy spending time with the people most important to you.
HYGGE-STYLE RUGS AND CARPETS AT KNOTISTRY
At Knotistry, our flooring products are designed with the upmost care and detail. Every one of our rugs and carpets are long lasting, made from the highest quality sustainable materials and designed with style and sophistication. They're stylish and affordable, made to last, and are environmentally friendly.
We have a wonderful selection of 100% natural products that are perfect for a hygge style home. Choose from our new eco collection, where each product is completely natural and woven in a variety of textures and natural colours.
Discover our wide range of carpets and rugs online, order free samples and take your first step to brining hygge to your home.