Struggling to decide between Jute or Sisal natural flooring? We take you through the differences and help you make the right choice for your home.
Which natural carpet is right for you?
Struggling to decide between Jute or Sisal natural flooring? We take you through the differences, the pros and cons and help you make the right choice for your home.
Differences between Jute and Sisal
Chances are you have heard of Jute and Sisal flooring but are unsure of the differences between them and which areas of your home they're best suited. Let's start by looking at where each natural fibre comes from
ORIGINS
Sisal is derived from a Succulent (the botanical name for plants that can store water using thick, fleshy leaves) plant called Agave Sisalana. It is believed to be a native species of Mexico but is now farmed sustainably across the world.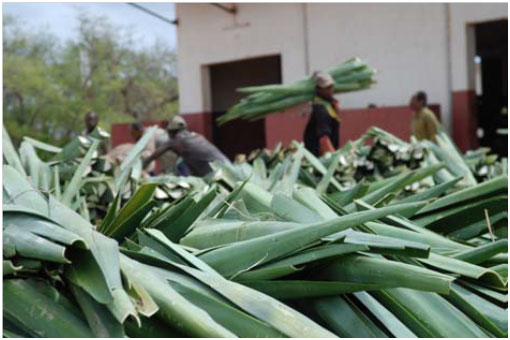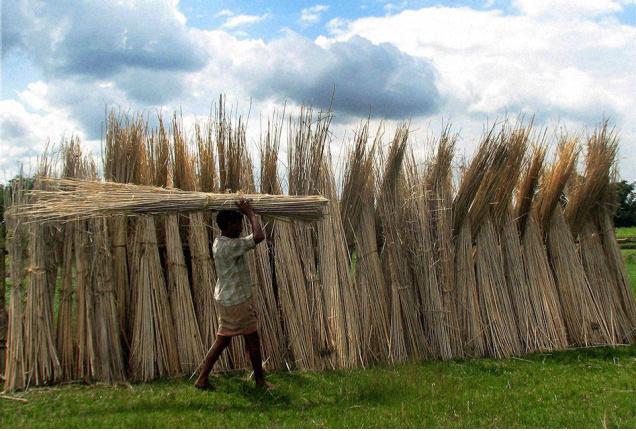 The leaves of Agave Sisalana
Agave Sisalana has adapted to survive for up to ten-year life spans in the temperamental climate of the tropics – periods of intense dry heat punctuated by the occasional storm. It's hardy, weathered and strong. The leaves are harvested, crushed and beaten to produce a tough, stiff fibre – it's these fibres which are spun and woven into Sisal Carpets.
Jute has quite different origins from Sisal. Although it is also native to the tropics, the Cochorus from which Jute is derived, is a flowering plant, tall and spindly. It needs the regular rainfall typical of the monsoon climate. That's why 85% of Jute cultivation is concentrated in the Ganges Delta. Once the plants are ready for harvesting, they're cut, bundled and soaked in water for a few weeks. This makes it possible to extract and separate the extremely fine fibres.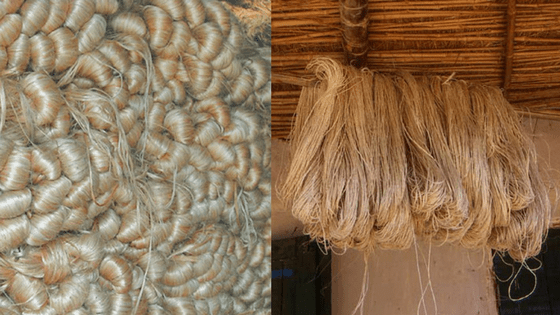 Jute fibres are much finer than Sisal fibres. It's this difference which is behind the contrasting properties of Sisal and Jute carpets.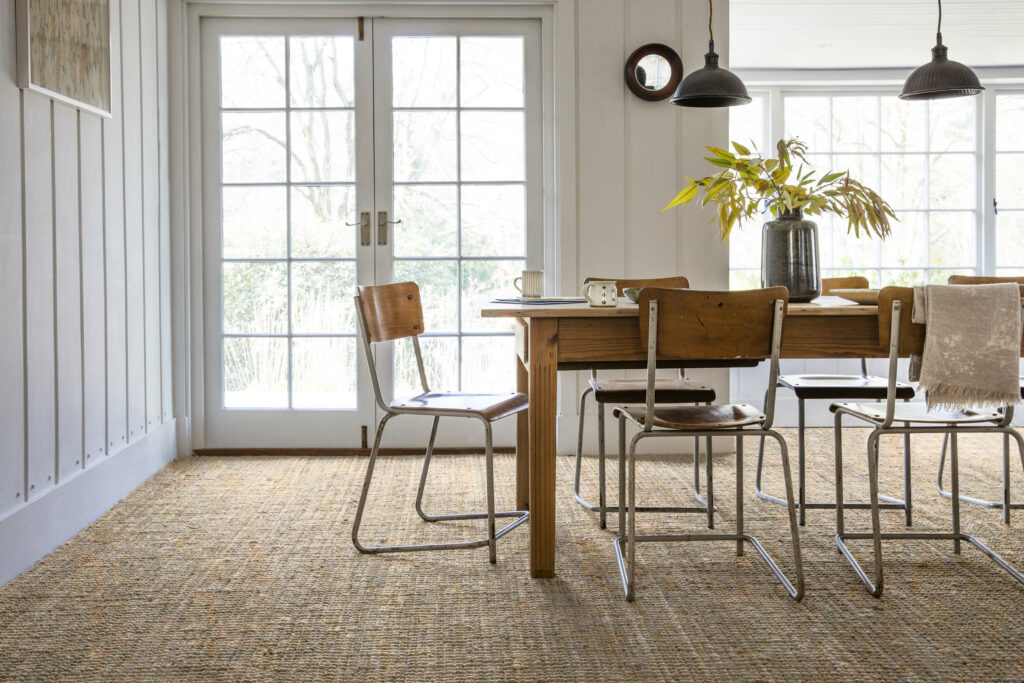 Jute Big Boucle Muffin by Alternative Flooring
ENVIRONMENTAL CONSIDERATIONS
Sisal and Jute's ecological credentials are unimpeachable. Both are grown sustainably, requiring no or very small quantities of fertilizers, herbicides and pesticides. They are also fully biodegradable.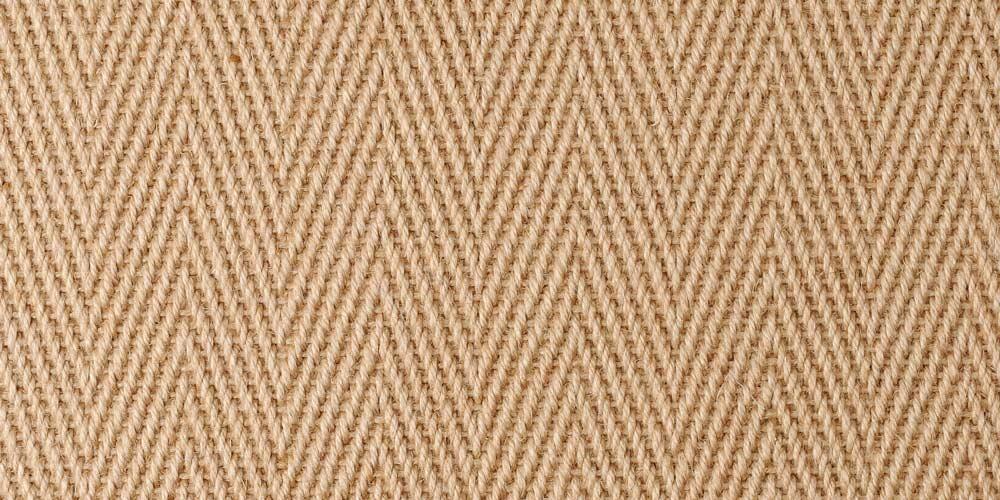 Jute Herringbone Natural by Alternative Flooring
JUTE VS SISAL CARPETS – DURABILITY
Sisal carpets are much more hardwearing than Jute carpets. Sisal is ideal for use on high traffic areas such as stairs and landings. Jute Carpets, on the other hand, can experience fibre loss quite quickly in these locations. For this reason, we would not recommend using Jute in areas that get more than light usage.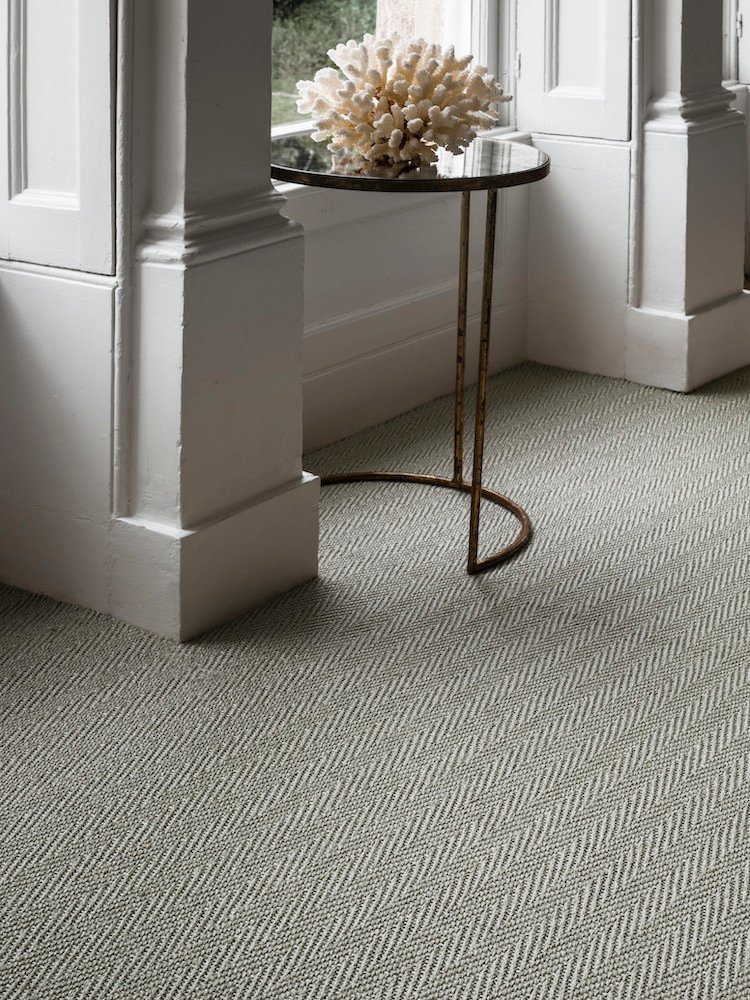 Sisal Harmony Herringbone Pacific Blue by Crucial Trading
Feel
The fineness of Jute fibres mean that Jute carpets are very soft underfoot, making it an ideal carpet for bedrooms and snug areas.
Sisal is rougher underfoot although it will soon soften with regular footfall and maintenance. The bulkier weaves of our Sisal carpets tend to be more forgiving underfoot – the Malay weave in particular is noticeable for this effect.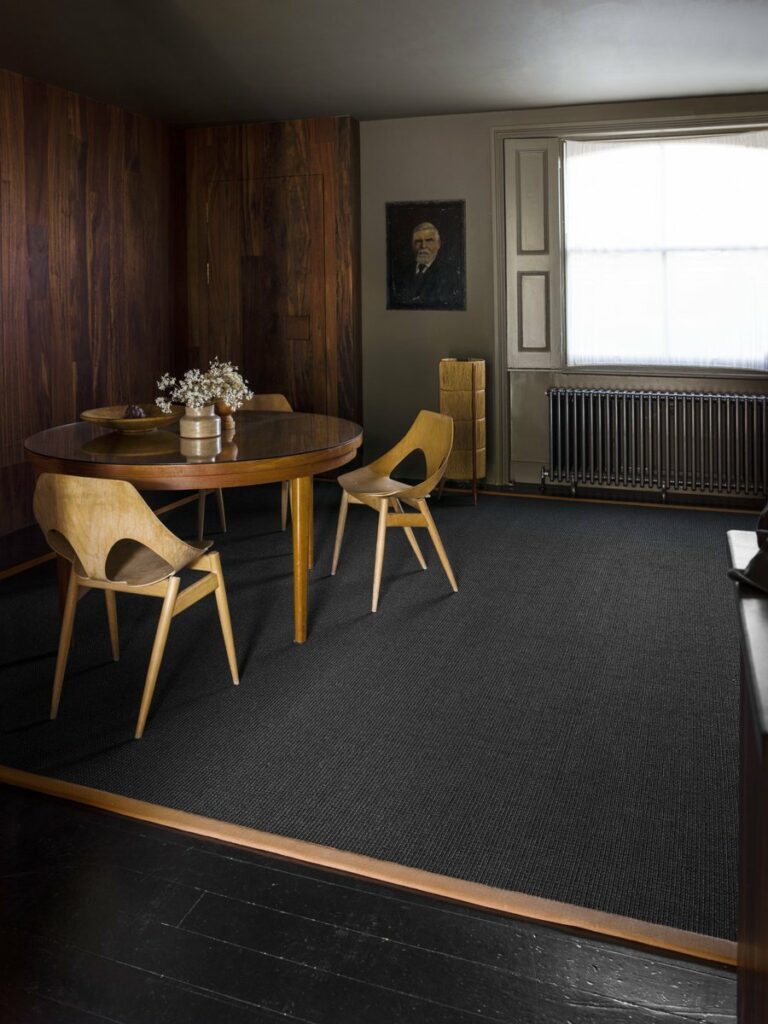 Sisal Boucle Accents Scarlet by Crucial Trading
Cost
The relative low costs of producing Jute means that Jute carpets tends to be more affordable than Sisal and other soft natural fibres such as Wool.
Design
If you're looking for a particular colour or a solid, brilliance of hue from your carpet, then sisal carpets excel. This is because sisal fibres dye really well. Knotistry stock sisal carpets in bright, unapologetic tones that can instantly transform your home. Take a look at the Buckler's hard, Scarlet and Pacific Blue ranges – as well as these blends of natural tinges and rustic, grainy mottled effects.
Raw Jute doesn't take well to many dyes – this means our colour selection is limited. Having said that, you can still find a Jute carpet that matches your interior design.
Sisal and Jute carpets can change colour slightly when exposed to direct sunlight, although this tendency is more pronounced in Jute.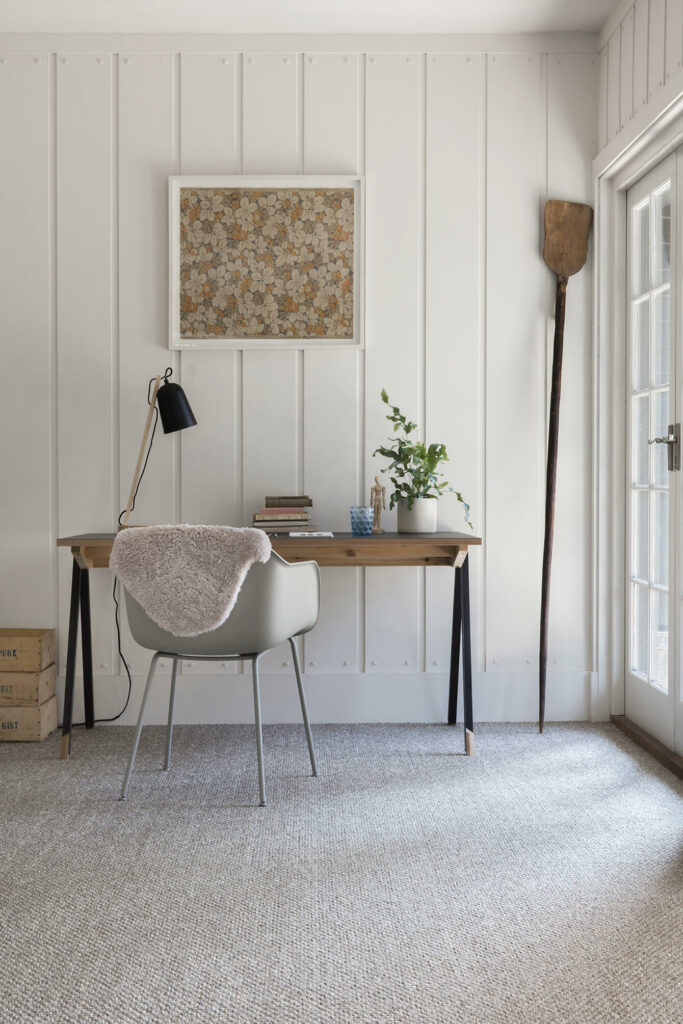 Sisal Metallics Aluminium by Alternative Flooring
Fitting
Jute and Sisal carpets are hygroscopic, meaning they both draw moisture from the air. This causes them to expand and contract. It's for this reason that we would always recommend fitting them using the 'double-stick' method – gluing an underlay to the subfloor then gluing the carpet to the underlay. We would also recommend the use of gripper rods around the perimeter of the floor-space as you would do with a conventional carpet.
This method of installation ensures the carpets are stable and won't move too much. In our previous posts, we've outlined some alternative eco-friendly fitting materials.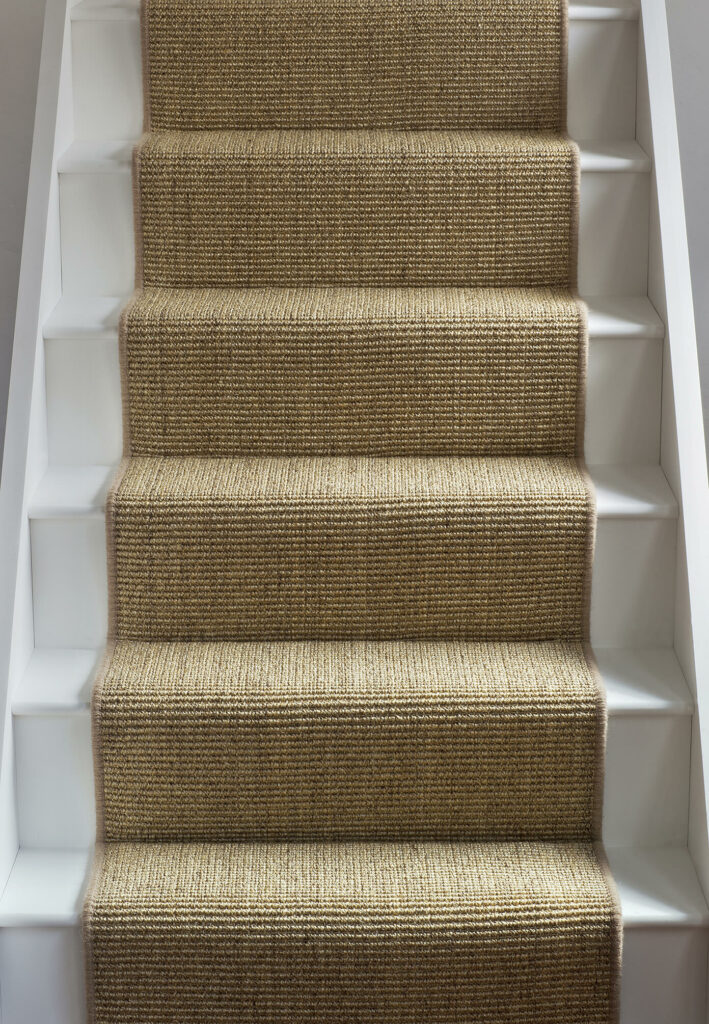 Care
Both Sisal and Jute can watermark if a substantial amount of liquid is spilled on the carpet. Jute is slightly more susceptible than Sisal. We would always recommend getting any Natural Carpet sprayed with an Intec Stain Inhibitor – a polymer shield that causes liquids to bead on the surface of the carpets, giving you more time to address the stain.
We would recommend regular vacuuming to ensure both materials look their best and to ensure you get the maximum life out of your carpet. Vacuuming removes small pieces of dirt and grit that are abrasive and can cause fibre loss if left for extended period of time.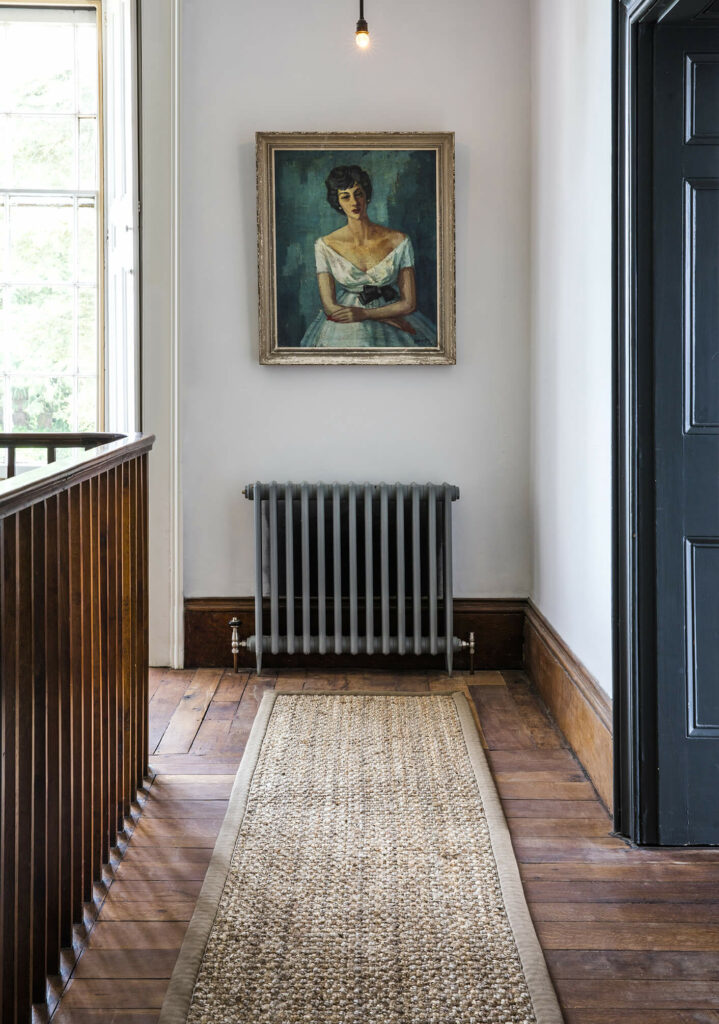 Jute Big Panama Brioche Rug – available on our Rug Creator
Lifespan
Our suppliers recommend that Sisal Carpets have a lifespan of roughly eight years, while Jute Carpets have a lifespan of five, although these figures are subject entirely to how the carpets have been treated and maintained.
Knotistry
We hope that having read this overview of the differences between jute and sisal carpet that you feel better informed. Sisal is ultimately the more adaptable material – it's harder-wearing making it suitable for use throughout your home. It is available in many colours and weaves too. If you're looking for a cheaper Natural Carpet, for a low-use room that you want to feel comfy and homely, Jute is the product for you.
If you have any questions around any aspect of jute and sisal carpets and rugs then give our team a call. We are more than happy to help you.