100% Un-dyed wool, hand-woven and backed with Cotton.
This month we've got hold of some truly innovative, ecologically conscious carpets that'll bring grace, elegance and sophistication to your home this autumn.
We've been hankering after the Barefoot Collection by Alternative Flooring for some time now. Hand-woven on traditional looms, the Barefoot Collection is created from 100% un-dyed wool. The hand-woven effect lends the collection a rugged, natural charm while the thick wool pile brings added comfort.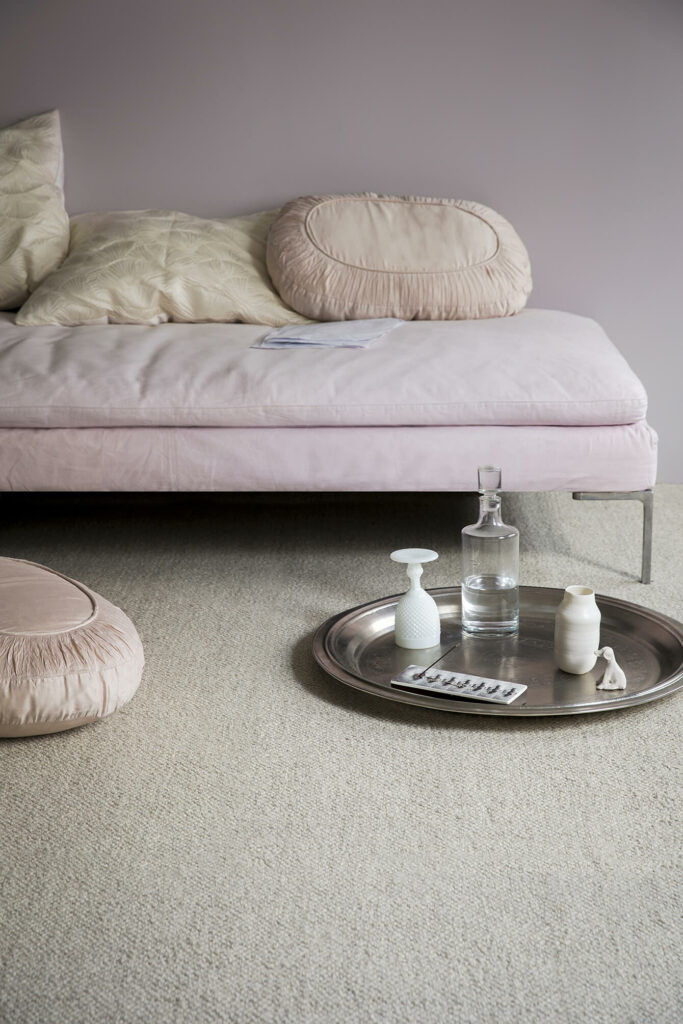 Although we have other 100% un-dyed wool ranges, such as the Wool Knot and the Wool Pebble, what makes the Barefoot Collection particularly special is that it is woven onto cotton and secured with latex. This avoids the use of any synthetic adhesives whatsoever. If you fear 'off-gassing' or 'VOCs' – volatile organic compounds – then the Barefoot Collection is undoubtedly the best solution for your home.
We're currently running three Barefoot ranges: the Bikram, the Hatha and the Ashtanga. The Bikram and the Hatha differ in weave but are each available in seven shades of un-dyed wool. The Ashtanga is a subtle un-dyed stripe.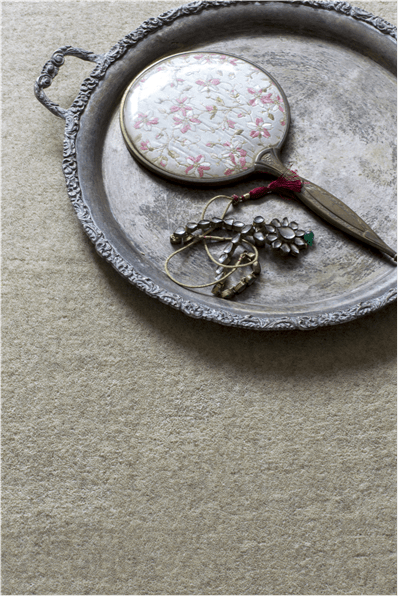 The Barefoot Bikram is a thick, tightly woven twist pile which warmly envelops the toes as it's walked over. The density of the pile even allows this carpet to be used on stairs.
The Barefoot Hatha, is a chunky, magnificent loop pile. With a pile depth of about 15mm, the foot really sinks into this carpet, cosseting your feet and minimizing your footfall. The size of the loop on the Hatha means that it is unsuitable for stairs but it's presence in bedrooms and living spaces could not go unnoticed.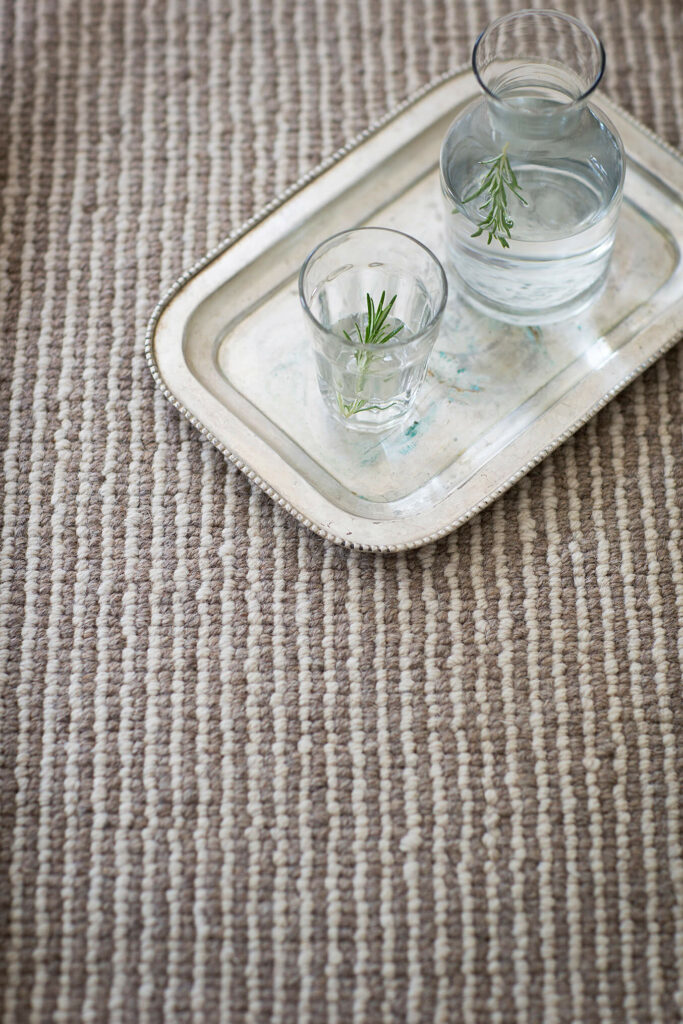 The Ashtanga Range is a thick loop, using contrasting un-dyed wools to create a wholly natural stripe. The Ashtanga, like the Hatha, has too large a loop for use on stairs but it brings a breathtaking sense of definition to a floor-space.
It's important to remember that the purpose of the Barefoot Collection is to minimize the use of any man-made materials. This means that these carpets are not treated with a moth or stain protection.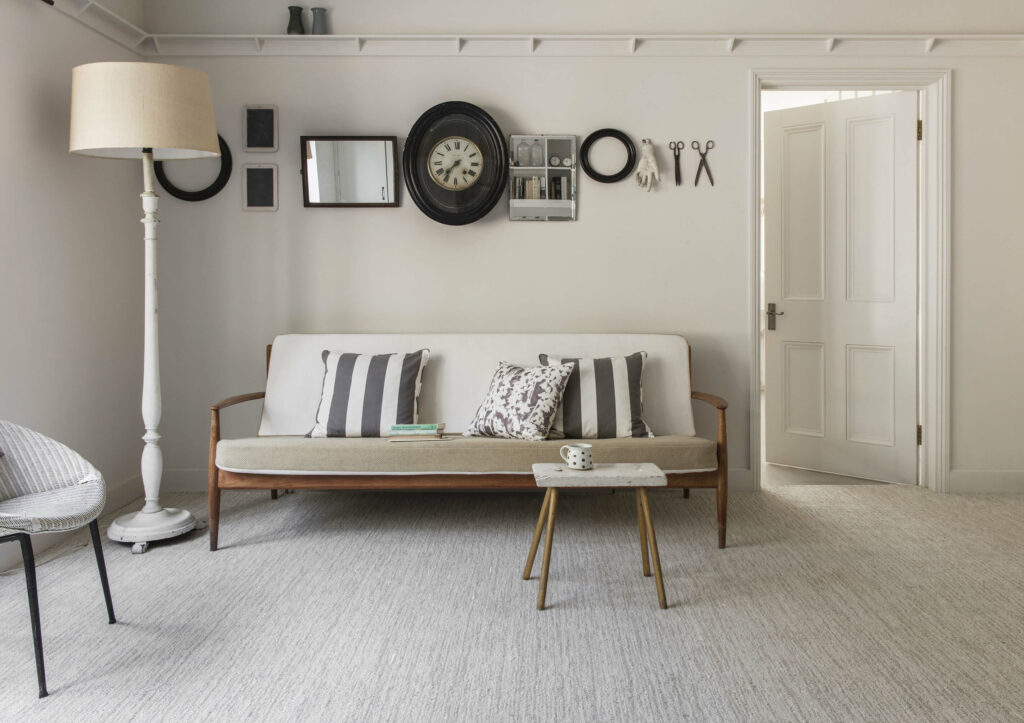 Barefoot Ashtanga Silk (Call us for prices and availability)
The Barefoot collection can be stretch-fitted traditionally, again avoiding the use of any flooring adhesives. If you're looking for an eco-friendly underlay for for use under your eco-friendly carpet we'd recommend having a look at the Envirolay underlays by Texfelt that are manufactured in the UK using 100% recycled fibres.
The Barefoot Collection proves that you can be choosey about the materials and installation methods used in your home, yet remain uncompromising in your sense of style.
For more information, prices and availability please call us on 0117 370 2762 or email us at [email protected].